The World Economic Forum has just published its 10th annual Global Information Technology report, and the UK is ranked 15th behind emerging "Asian tigers" such as Singapore, Taiwan, South Korea and Hong Kong. However, Europe remains the most developed area for information and communications technologies, with Sweden taking the top spot for the second year in a row. Sweden is followed by Singapore, Finland, Switzerland, and -- commendably, for such a large country -- the United States. There are four Nordic countries in the top 10, with Iceland trailing in 16th place, just behind the UK.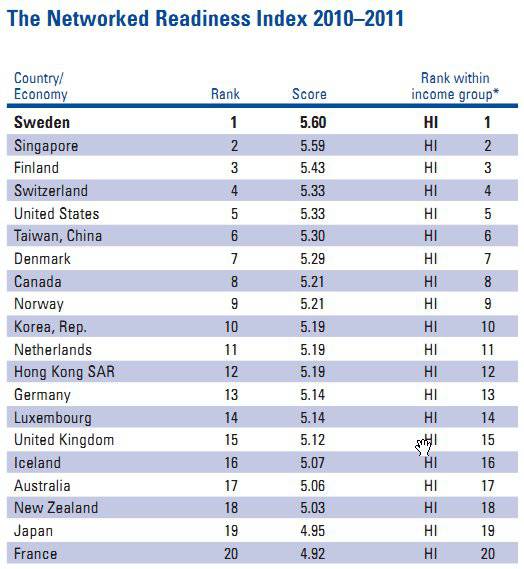 The rankings are based on 71 economic and social indicators in the Network Readiness Index. These cover the environment in terms of the market, the infrastructure, and the political and regulatory environment, considered in terms of the three main "stakeholders": individuals, businesses and government. While it has many in-depth features, the bulk of the 412-page report -- available for free download as a PDF file -- is made up of country profiles for the 138 countries assessed and data tables.
This indicators include "4.01 Quality of math & science education", where the US is placed 52nd and the UK 55th.
In general, the rankings are an indication of national wealth. The WEF points out that Malaysia, in 28th place, is the only non-high-income country in the top 30. (In my view, it wouldn't be there were it not next door to Singapore, which left Malaysia in 1965.) Libya, which the report says is "similarly rich", only manages 126th place. However, Indonesia made the biggest leap forward in 2010, climbing 14 places to 53rd.
Countries that might well be disappointed with their performance include Spain (37th), which is one spot below China, Italy (51st), Turkey (71st), the Russian Federation (77th) and Ukraine (90th). Those outperforming expectations include The Gambia (76th) and Kenya (81st), which are the top two low-income countries in the rankings.
Performance and competitiveness correlate strongly with PC ownership and broadband penetration, which is why Spain and Portugal score less well by European standards. However, it's sobering to look at global situation. The WEF reckons only 0.4 billion people (6%) have high-speed internet access (better than 5Mbps). Another 0.7 billion people have ordinary internet access (2-5Mbps) while 0.8 billion have narrowband access (up to 2Mbps). That leaves 4.8 billion people -- 71% of the world's population -- without broadband access.
There are lots of futurological assumptions based on the ubiquity of high speed broadband, that don't yet apply to 94% of the world's population, including many millions of people in the US and the UK.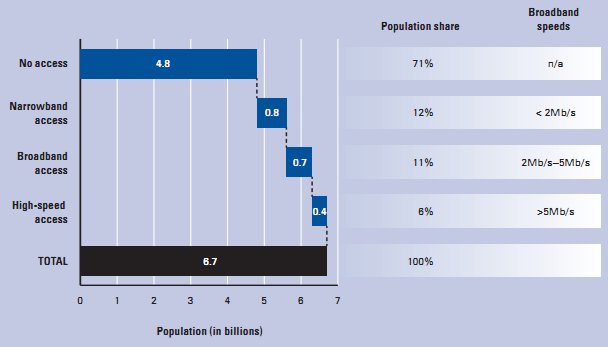 Global access to broadband