Gartner has been running webinars on what it calls "The Big Migration" to Microsoft Windows 7 and Office 2010. And 17 months after the release of Windows 7, it's warning that people risk running out of time. Gartner's webinar host Stephen Kleynhans told attendees: "You need to get started right away. Your window keeps getting smaller and smaller every day."
Kleynhans reckons that companies need to spend three months on information gathering so they know how many people, PCs and applications they have to migrate. After that, he's budgeting only six to nine months for engineering work to correct any software incompatibilities, followed by a three-month pilot test that will cover weekly, monthly and quarterly processes. "That leaves 18 months for roll-out."
The cut-off date is the end of support for Microsoft Windows XP in April 2014, but Kleynhans said companies should "aim to get off XP" by the end of 2012. He warned that "lack of ISV [independent software vendor] support will start to become common" in 2012 and "you will start to feel some pain."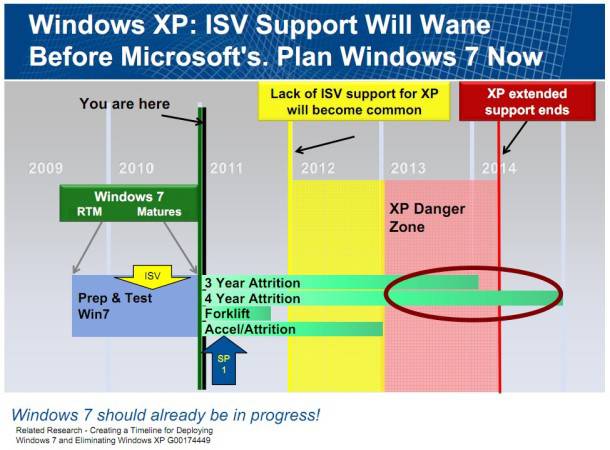 Gartner slide: Windows 7 migration timeline
The move to Windows 7 could also involve companies moving to Microsoft Office 2010. In this particular webinar, 59% of the participants were still on Office 2003 or earlier, with 41% on Office 2007. All the other options -- Office 2010, Google Docs and Open Office -- had zero users. "For the most part, it's not really practical" to move to Google Docs or Open Office, said Kleynhans, "particularly when you look at the fact that [Microsoft Office] is a platform, not just an application. It's pretty difficult to extricate yourself."
Doing both migrations at the same time could be tricky. Kleynhans said many companies liked to take a mixed approach to the Windows upgrade -- swapping some old PCs for new ones while upgrading some current models -- but usually wanted to switch everyone to the new version of Office as quickly as possible.
Kleynhans added that companies needed to upgrade to Exchange 2010 and SharePoint 2010 to make full use of Office 2010, and that they should also look at the corporate versions of Microsoft's web-based Office apps.
For many companies, the migration to Windows 7 also includes upgrading from IE6 to IE8, and moving from 32-bit to 64-bit computing. These can involve significant remediation for those who skipped or didn't even test their applications on Windows Vista. "We would generally recommend you plan to go to 64-bit," Kleynhans said. "There's about a 60:40 split at this point," with most companies going to 64-bit.
Although some companies may still seem slow to respond, Kleynhans said "we've seen a very positive response" to Windows 7. "People really are moving quite quickly, compared to previous operating systems. It is really an inevitable migration."
The Big Migration: Windows 7 and Office 2010 webinar was held on 30 March 2011.