As expected, Canonical showed a version of its Linux-based Ubuntu operating system for TV sets at CES 2012 in Las Vegas, along with an in-car entertainment system. Ubuntu TV sets could appear this year, to compete with Google TV sets running Android -- which so far have failed in the marketplace -- and the widely-predicted Apple TV. However, Canonical has not announced any deals with TV manufacturers, so it's not clear what the take-up might be.
As I reported here in October (Ubuntu aiming for phones and tablets, says Shuttleworth). Ubuntu's multi-millionaire backer Mark Shuttleworth announced that his company, Canonical, would target "a broader range of form factors … from the phone through the tablet to televisions", thanks to its "touch framework" and Unity user interface. These expansion plans are based on version 12.04, Precise Pangolin, which is expected in April 2012, and will be supported until 2017.
Canonical's website at ubuntu.com/tv describes Ubuntu One as "TV for human beings". However, the site is aimed at TV manufacturers rather than consumers.
One key point is that Canonical will be setting up its own TV content services to compete with Apple and Google. The site says:
"Ubuntu TV has a box office built-in, so viewers can browse the latest movies and TV shows online, buy and start watching in seconds. Canonical manages relationships with online services, streaming services, and content distributors globally. All login information and payment details are securely stored in the personal cloud account. For viewers, it could not be easier, and for hardware manufacturers, Ubuntu TV offers access to content revenues without the complexity of software and content management."
This could severely limit the take-up of Ubuntu TV because it depends on Canonical being able to sign content deals that cover a wide range of countries. This has previously been a problem even for Apple, Google and Microsoft.
Ubuntu TV will run on both ARM and Intel/AMD x86 processors with 1GB of memory plus 512MB of video memory and 2GB of storage. Further storage will be required for video recording (PVR) functionality.
The operating system is free, but Canonical says: "Companies wishing to distribute an Ubuntu-branded commercial device pay a per unit service fee covering the engineering, maintenance, quality assurance, third-party licensing fees and Canonical consulting costs." Canonical will also take an unspecified share of "post-purchase services revenue from the sale of content, applications and subscriptions".
Does Ubuntu TV have much chance of success? It will be tough going up against Apple and Google, especially when there are more flexible set-top box options that appeal to open source fans, such as XBMC and Myth TV.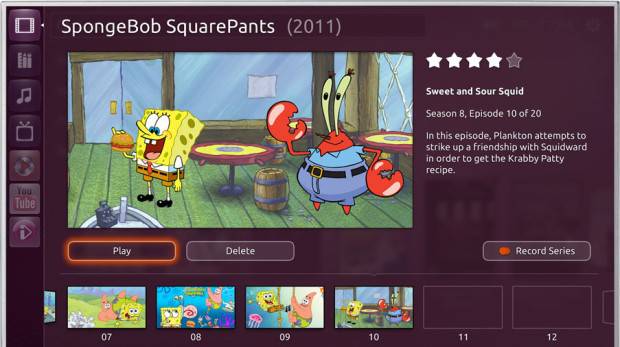 The user interface (above) looks crude compared with the current Metro-inspired Microsoft Xbox 360, which supports TV services and works increasingly well as a set-top box. How will it look to TV-buying consumers alongside Google TV and (possibly) Apple options?
Separately, Canonical and AllGo Embedded Systems "announced the availability of their Linux In-Vehicle Infotainment (IVI) solution that combines AllGo's IVI Middleware solution RACE with Canonical's Genivi compliant Ubuntu IVI Remix operating system. Together the solution provides advanced features for next generation connected car platforms like personal cloud services based on Ubuntu One, smartphone and tablet Integration in the car and location-based services."