Gartner has finally published its predictions for the tablet market, and while they will undoubtedly be wrong, they might also be just a tad foolhardy. It's no surprise that Gartner is predicting that Apple's iOS will dominate the market for the next few years, but predicting sales of 138.5 million iPads in 2015 is fairly brave, and that's only giving it a market share of 47.1 percent. Whether there's really a market for 800 million tablets in the next four years is open to debate, but it could include a lot of serial iPad buyers replacing their machines every year, or the belated recognition that their main use is as games machines.
Gartner says in a statement that the "Apple iPad did to the tablet PC market what the iPhone did to the smartphone market: re-invented it. A media tablet is not just a different form factor to perform the same tasks that can be done on a PC. Tablets deliver a richer experience around content consumption, thanks to the ecosystem they support. The richer the ecosystem, the stronger the pull for consumers."
"Seeing the response from both consumers and businesses to the iPad, many vendors are trying to compete by first delivering on hardware and then trying to leverage the platform ecosystem," said Carolina Milanesi, research vice president at Gartner. "Many, however, are making the same mistake that was made in the first response wave to the iPhone, as they are prioritising hardware features over applications, services and overall user experience. Tablets will be much more dependent on the latter than smartphones have been, and the sooner vendors realise that the better chance they have to compete head-to-head with Apple."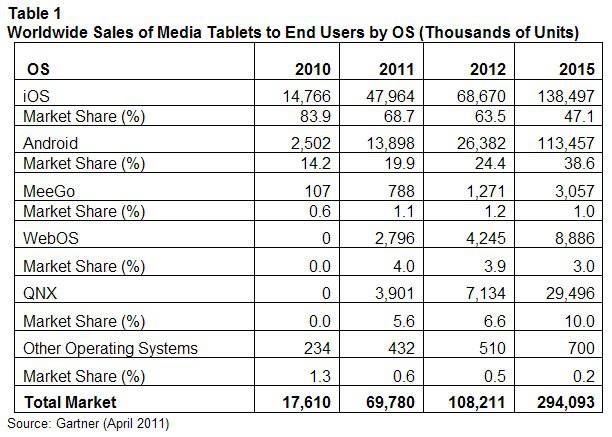 Gartner is forecasting that Google Android will take 39 percent of the market in 2015, up from 20 percent this year. It also predicts limited success for RIM's new QNX-based BlackBerry system -- 10 percent of the market in 2015, with sales of 29.5 million machines -- and some sales of devices with HP/Palm's WebOS and Intel/Nokia's MeeGo. There's no separate mention for Archos, which pioneered smaller media consumption devices, or tablets running Microsoft Windows, which Gartner counts as part of the more powerful PC platform.
Milanesi reckons that RIM's progress will be limited by its smaller ecosystem, as compared with iOS and Android, but sees it appealing to companies who already use RIM's infrastructure and/or have security concerns. Milanesi also recognises that buyers will be influenced by whichever smartphone they own "so that they can share applications across devices as well as for the sense of familiarity the user interfaces will bring". This could make things harder for companies in the Android market because, she says, "some users might put OS over brand when it comes to the purchasing decision".