Intel is working on versions of its Atom chip for the server market, and they should reach the market in the second half of next year. The date was confirmed by Boyd Davis, Intel's general manager of server marketing, at a private dinner in London on Wednesday night. Davis is travelling Europe in connection with the launch on Tuesday of the top-end Xeon E7 series, which provide up to 10 cores per processor.
Boyd Davis said Intel had four architectures for the server market, including the Itanium processors developed with HP and now targeted mainly at Unix systems. He said "the Xeons go down to 20 Watts but we're not going to force customers who want to use Intel architecture to go somewhere else. We'd leave a hole if we didn't have an Atom-based product. The space is unserved, so we'll make sure we have a product for customers. The first cost-optimised server products will come from Intel."
The unspoken background is that the "unserved" market is one to which ARM aspires with chips that are not compatible with Intel's x86 architecture.
Boyd Davis said that 64-bit processing and ECC memory correction were "absolute requirements" and he expected this to give Intel an advantage.
Another journalist at the dinner, Desire Athow, pointed out that SeaMicro, a Californian startup, was entering the market with a server using 256 of Intel's dual-core N570 Atom chips. SeaMicro describes it as the "industry's first purpose-built server optimized for highly partitioned workloads such as those found in the web tier, search, and index computation."
It's not clear how much of a market there is for low power but low-heat and low-cost server chips, but it might be 10% of the market by 2015. "The lowest cost is always a virtual server," said Davis. "A VM [virtual machine] is cheaper and lower-power than any physical device will ever be." However, if the Atom-based chips don't take off in servers, Davis said "they're still really good for storage boxes for small companies."
Although Intel is best known for desktop and laptop CPUs, the server products are important, and prices can run to more than $5,000 per processor.
"The data centre business at Intel is quite strong," said Davis. "We represent 20-25% of Intel's revenue and about a third of margins."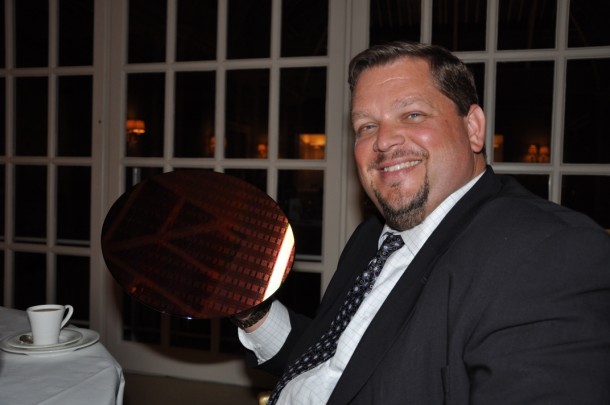 Intel's Boyd Davis, with silicon wafer, at dinner / Photo © Jack Schofield