China's Lenovo has become the world's second largest PC supplier, ahead of Dell, according to US-based market research company IHS iSuppli. The jump in status was based on the strength of the Chinese PC market, Lenovo's venture with NEC to supply the Japanese market, and the acquisition of Medion, which sells attractively-priced PCs via special offers in European supermarkets. iSuppli says Lenovo is "mounting the most serious challenge to Hewlett-Packard's hegemony that the market has been seen in more than three years."
Lenovo would not be out of place as the world's leading PC company, and you might say it has been there before. Lenovo is a combination of Legend, which grew to become China's leading PC supplier, and IBM's once table-topping PC division, which Legend purchased. Legend already manufactured PCs for IBM, and Lenovo has worked to protect and develop its ThinkPad and other brand names, while expanding into the consumer market. Milko van Duijl, a former IBM-er who is Lenovo's senior vice president for "mature markets", told me this week that the company was also growing its feature phone, smartphone and tablet businesses in China, and planned to enter the "smart TV" market.
iSuppli's report, Lenovo Jumps to No. 2 PC Rank in Q3, Challenging HP's Lead, says Lenovo's global PC shipments grew by 14.5 percent to 12.5 million units in this year's third quarter, compared with 10.9 million in the second quarter. Year-over-year growth was 24.8 percent.
For comparison, Dell's sales increased by 1.3 percent sequentially to 11.3 million units, but shipments declined by 0.3 percent compared with the same quarter last year.
IHS's principal analyst for computer platforms research, Matthew Wilkins, said: "While PC sales in the United States, Europe and many other regions are suffering because of weak economic conditions and rising competition from media tablets, desktop and notebook sales remain red hot in China. This is allowing Lenovo to outgrow it US rivals -- and putting it in position to contend with HP for market leadership."
The Top 5 PC companies, according to iSuppli, are now HP, Lenovo, Dell, Acer and Asus. However, the two Taiwanese companies had contrasting results: Asus increased its shipments by 27.1 percent compared with the same quarter last year, while Acer's slumped by 20.9 percent.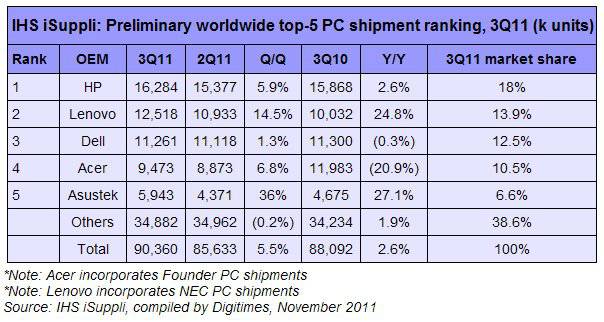 IHS added: "Outside of the Top 5, Apple Inc and Samsung Electronics -- ranked seventh and eighth, respectively -- also reported very strong year-over growth of 27 percent and 36 percent in the quarter."
The whole PC market grew to 90.4 million units in the third quarter, which is just 2.6 percent higher than last year's 88.1 million unit quarter. IHS iSuppli forecast of 6.8 percent growth.
"While third-quarter PC shipments came in lower than our predictions, the attainment of any growth at all represents a victory for the market," Wilkins said. "This increase in sales comes at a time of weak consumer sales and a strong challenge from alternative platforms -- specifically the media tablets. In this environment, all growth is progress."