I'm just back from a wonderful week in Iceland. There is no place in the world which I find more interesting and enjoyable, and even after having lived there for a year, and going back for a number of vacations there, I still find beautiful new places to explore every time. Of course, a lot of the places we go are far off the "beaten track" (aka the ring road in Iceland), and are only accessible via tracks which no longer qualify as "roads" and thus are frequently not shown on Google Maps. I use Google Picasa to share photos with friends and family, and on there you can link photos to Google Maps, However, doing that linking manually for hundreds of photos is not my idea of fun, especially when I can't even find nearby roads to use as a reference.
So, before this trip I picked up a new camera, a Pentax Optio WG-2 GPS. It is waterproof (a very useful feature in unpredictable Icelandic weather) and it includes a GPS module which adds location information to the EXIF data.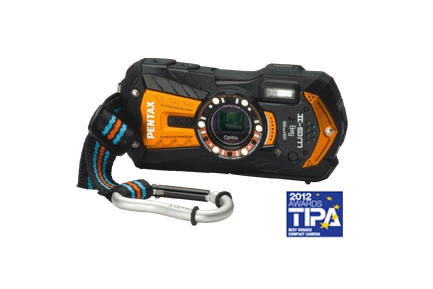 I have always had Pentax SLR cameras, but the add-on GPS module for those costs nearly as much as this little camera, and it being waterproof was such a huge advantage that I decided to start with GPS tagging photos this way. The idea is to use the pictures from this camera as location references for the more numerous pictures taken using our SLR cameras. That is not to say that the Optio takes "inferior" pictures, of course. With 16M pixel resolution and 5x optical zoom (28-140mm equivalent), it is quite a good camera in its own rite.
There are a couple of important things to remember when using a camera in this way. First, getting a GPS location is not instantaneous, as most of us know from using GPS navigation units in our cars. So you need to keep an eye on the GPS lock indication on the camera display. Thankfully the Optio is quite quick at this, and generally gets a lock within a few seconds - if it took as long as the GPS unit in my car, I would have cast it into a waterfall pretty quickly. Second, as I have mentioned before, if you are using more than one camera make sure that the clocks are synchronized - especially so in this case, if you want to use the pictures from one camera as references for the pictures from the other(s). Third, make sure you have at least one extra battery pack (preferably more than one). This was the part which surprised me the most. Compact cameras have compact battery packs, and the GPS unit uses a significant amount of power. The result is that I could generally get through not muich more than one day on a battery pack inthe WG-2. For comparison, I can get through several weeks and several thousand pictures on one battery pack in my Pentax SLR.
I am still in the process of sorting and selecting the pictures that we took, but I am already convinced that the GPS data makes this a much easier task. When it comes time to get a new digital SLR, I will be looking for one with integrated GPS.
jw