Toshiba has announced a new range of solid state disk drives (SSD) , but two of the three models have already appeared with the same model numbers in the latest ultrathin Apple MacBook Air computers. Toshiba has trademarked the name Blade X-gale for the new drives, which are more like memory strips. SSDs have been used in notebook PCs for many years, usually in a format based on hard disk drives. This enabled PC manufacturers to offer models with a choice of hard disks or SSDs. Blade X-gale SSDs use a SATA 2.6 (3Gps) drive interface but are not interchangeable with traditional hard drives.
The 64GB and 128GB SSDs are "only 2.2mm thick, 42% thinner than that of a typical mSATA form factor," says Toshiba. The 256GB version is 3.7mm thick. This will enable companies to make thinner notebook PCs, as Apple has demonstrated.
Since they don't have cases, the naked chip-strips are also very light at 9.8g, or 13.2g for the 256GB version. However, while thinner they are not necessarily lighter than the mSATA (8.5g) and Half Slim (9.2g) modules already in Toshiba's SSD range.
The new Blade X-gale drives could obviously be used in netbooks, tablets and other devices. How many will be is another matter. Toshiba has not quoted prices for its SSDs, but while they should be cheap by SSD standards, they will still cost a lot more than internal hard drives. HD-style SSDs currently cost $2 to $4 per gigabyte, sometimes much more, whereas 500GB Toshiba 2.5in hard drives cost about 12 cents per gigabyte.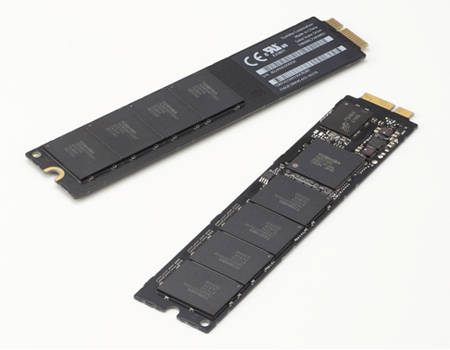 Toshiba Blade X-gale SSDs
When iFixit did its MacBook Air 11" Model A1370 Teardown, it commented that: "The Mini PCI Express form factor SSD drive is a completely custom part, and will probably only be available through Apple support services, thereby putting another nail in the coffin for user-serviceability."
It now looks as though anyone who can hack the Air's 5-point Security Torx screws will be able to upgrade a 64GB to a 128GB drive, though it remains to be seen whether or not a 256GB drive will fit. However, since the machines also have their non-upgradeable RAM soldered to the motherboard, and sealed-in batteries, they look more likely to end up as landfill.