Toshiba has unveiled the first 3D laptop that doesn't need special glasses for watching movies or playing 3D games. The shiny red Qosmio F750, which will go on sale next month, has a 120Hz, 15.6-inch screen that uses "a lenticular lens sheet to send different images to the left and right eyes." The effect varies somewhat depending on how close you are to the screen, but it gives a more pronounced effect than, for example, the Nintendo 3DS. Toshiba has already used the technology in its glasses-free 3D TV, the Regza GL1.
The F750 uses its built-in webcam for eye-tracking to optimise the 3D display for your angle of view, so it's essentially for single-user viewing. However, the 1920 x 1080 pixel full HD screen can display both 3D and 2D images at the same time, so you could have a movie in one window and a spreadsheet in another.
The F750 includes a Blu-ray XL read/write optical drive, which can be used for watching movies on Blu-ray or DVD. At its press conference in London, Toshiba said DVDs can be played back to simulate 3D on the fly. The XL drive can also be used to store up to 100GB on a disc.
In other respects, the F750 is a high-end laptop. It includes an Intel Core i7 Sandy Bridge processor, Nvidia GT540M graphics, 6GB of memory, 640GB hard drive, Harmon Kardon stereo speakers and 64-bit Microsoft Windows 7. There is one USB 3.0 port with sleep-and-charge and sleep-and-music capabilities, plus three USB 2.0 ports. The F750 also has an HDMI-CEC port and a multi-card reader slot, Bluetooth and Wi-Fi.
Price of the top-end system is expected to be around £1,300, which may limit its likely market to those who are serious about 3D movies and games. At the moment, 3D is clearly not a mainstream requirement in the PC business. However, the F750 will act as a "hero product" for the global market, positioning Toshiba as a company that can deliver cutting edge technologies.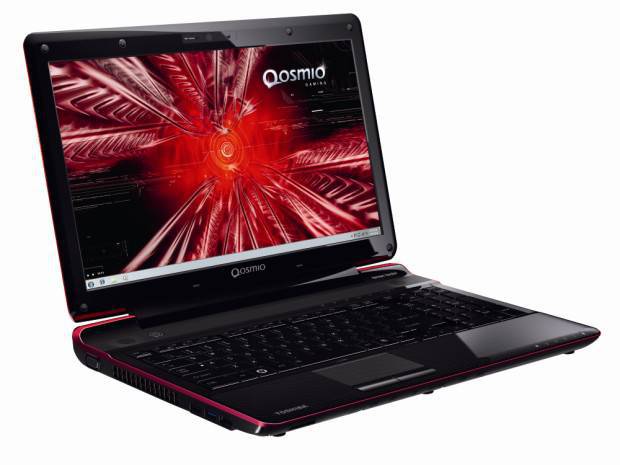 Toshiba Qosmio F750