Microsoft is adding elements of the Metro user interface -- which is already familiar from Windows Phones and the forthcoming Windows 8 -- to its Xbox 360 games console. Metro's key feature is that it replaces dumb icons with "Live Tiles" that provide information at a glance, without the user having to run an app.
Metro also furthers Microsoft's long-established "three screens and a cloud" strategy, where users will be able to leave something they are doing on one platform and continue it seamlessly on another. For example, someone watching a streamed movie on a Windows Phone should find it automatically continues from the same place on a PC or Xbox. Users will also be able to buy a movie on one device and watch it on any other Windows Live device; for a typical example, someone could choose and buy a movie on their Windows Phone on the way home, then watch it on their TV, via their Xbox 360.
Tiles on the Dashboard
A new blog post, Xbox.com: Enhanced! New Social & Video Sections, says that the current My Xbox screen will be replaced by a new Social page, which is a harbinger for the new Dashboard interface. "At the top of the Social page, you'll [find] a group of tiles in the new Microsoft style we lovingly call Metro. Watch this spot for links to Xbox LIVE events, previews of the hottest new items on Marketplace, new video and game releases, Gamer Spotlight, and more," says the post. There's a screen grab below.
The new Xbox Live Dashboard, which may start appearing on November 15, is also expected to include Bing search, access to YouTube videos, deeper Facebook integration, cloud storage and other features mentioned in Microsoft's appeal for testers to join its Public Preview Program. (Windows Phone also includes a "Bing button", an Xbox hub that displays your gaming avatar, and 25GB of integrated storage online in SkyDrive.)
The Dashboard will also extend voice and gesture control, implemented via the Kinect add-on.
Platform integration
Kinect provides a further example of Microsoft's integration strategy. At launch, Kinect was the fastest-selling consumer product ever, and it was rapidly adopted by researchers and academics as a cheap way of exploring gesture control. Microsoft is now preparing a Kinect SDK for Windows that will enable the device to be used for commercial purposes. (See my previous post, Microsoft starts pitching Kinect for business use.)
Businesses rarely pay any attention to the Xbox 360. However, it provides an extremely cheap way to acquire a powerful triple-core processor (based on a customised IBM PowerPC design) and high-end graphics processor. With Kinect, it also provides voice and gesture control, which could be used in consumer-facing presentations and displays.
It's not clear how far Microsoft's integration strategy will go beyond Metro. Currently, the "three screens" -- PC, Windows Phone and Xbox/TV -- all have different operating systems, and it's conceivable that these could converge in the future. The anonymous "MS nerd" has recently suggested that the next Xbox will run Windows 9 on a custom-designed ARM processor. (The Xbox 360 uses a modified Windows NT core.) However, Windows 9 will not be used on Windows Phone because Microsoft and Nokia plan to take Windows Phones down to very low price levels. This is essential if it is to replace Nokia's Symbian.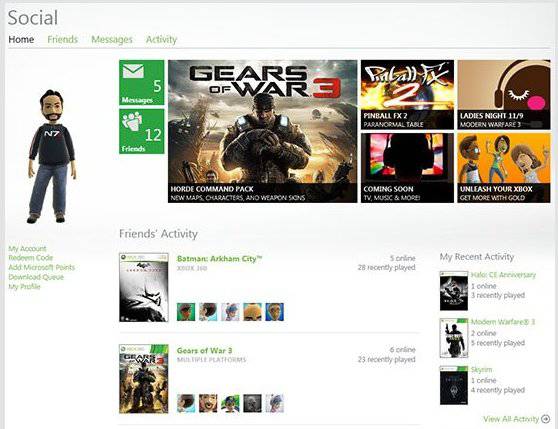 An example of an Xbox Metro Social page…. Credit: Microsoft