Asus has shown three new Transformers -- tablets that convert into clamshell-style notebooks -- running Microsoft's next-generation Windows at this week's Computex trade show in Taiwan. It has covered all the major options for consumers and for business users: there's a choice of running Windows RT on an ARM-based version, Windows 8 on an Intel Atom, or Windows 8 on a fast Intel Core processor. Asus even threw in a new all-in-one PC with an 18.5-inch screen that detaches to provide what founder Jonney Shih described as "the world's biggest tablet".
The Transformer range has been a great success as a niche product, and Asus has recently expanded its offerings with the more powerful Transformer Prime and the cheaper TF-101. Both of these run Google Android on ARM-based processes, so replacing Android with Windows RT is a relatively simple upgrade.
The Tablet 600 runs Windows RT on an Nvidia Tegra 3 quad-core processor, which has a 12-core GPU for mobile graphics. It has a 10.1 inch Super IPS+ screen with a resolution of 1366 x 768 pixels, 2GB of memory, and 32GB of storage.
This is the "World's first Windows RT consumer device", and Nvidia has posted a video showing it in operation (below).
The Tablet 810 runs Windows 8 on an Intel Atom processor (Medfield version) with 2GB of memory and 64GB of storage. Its 11.6-inch Super IPS+ screen display also offers 1366 x 768 resolution, but has Wacom digitizer stylus support is as well as 10-point multi-touch support. It will work with your fingers, like other tablets, but the stylus offers much greater precision.
Both the 600 and 810 are supplied with a docking keyboard that converts them into laptops. The keyboard part includes a trackpad, an extra USB port, a second battery, SonicMaster sound technology and built-in NFC sensors.
It will be interesting to see how the Tegra 3 and Atom compare for speed, and how well Android competes with RT for speed and features.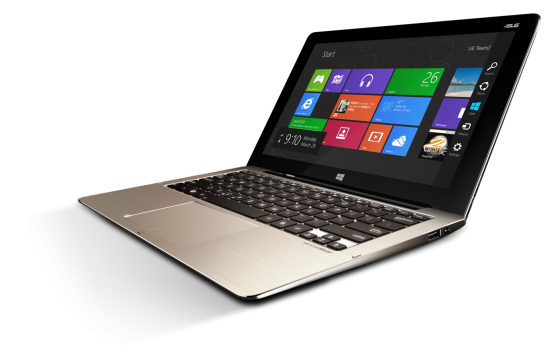 Asus Transformer Book
The high-end Transformer Book -- which Asus describes as "the world's first convertible notebook" -- runs Windows 8 on a third-generation Intel Core processor (Ivy Bridge version), with 4GB of memory and options for both SSD and HDD storage. The range will include versions with Core i3, i5 and i7 processors and with 11.6-inch, 13-inch and 14-inch Full HD 1920 x 1080-pixel IPS+ screens.
The Transformer Book is the Windows 8 equivalent of the Transformer Prime, and has a shiny shiny finish like Asus's Zenbooks, which are Intel Ultrabooks.
The Transformer Book will have the power, but obviously the battery life will not be as good as tablets that use low-voltage ARM and Atom chips. However, the Zenbook UX31 has the same battery life as a 13-inch MacBook Air, so the extra battery in the tablet part of the Transformer Book should enable it to run significantly longer.
Finally, Asus expanded its range in a new direction with the Transformer AiO, described as "part tablet, part All-in-One PC".
The Transformer AiO can seamlessly switch between being an all-in-one for desktop use, and a giant multi-touch tablet with an 18.4-inch screen. Users can also switch between Windows and Android.
Asus says the "multi-touch LED-backlit display which can be easily removed from its base station to become a wireless display for the AiO PC, extending the range of the PC and allowing users to continue with their work anywhere in the home. The display can also be converted into an Android-based tablet for the home with the press of a button."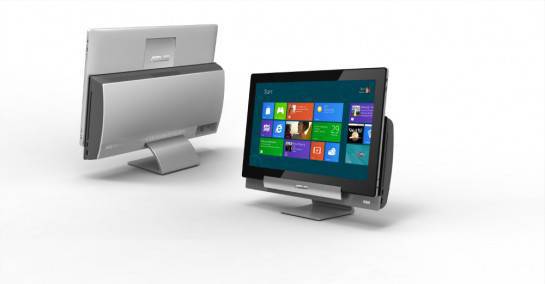 Asus Transformer AiO
It's not clear whether the AiO has an extra ARM processor or whether it uses BlueStacks to run Android apps under Windows. However, Bluestacks has just annouced a deal with Asus to ship its system with all Asus's Windows machines.
The AiO certainly sounds odd, but it could have practical applications as well as home uses. One complaint about touch-screen all-in-ones, of which there are many, is that it's inconvenient to do a lot of touch-based work when the screen is vertical. In this case, you can just remove the screen and lie it flat on the desk. Or you could detach the screen and mount it on a wall or in a table and use it as a public-access terminal. While the price remains unknown, it will be a much cheaper option than using a 40-inch Microsoft Surface computer.
At Computex 2012, Asus also unveiled the twin-screen Taichi laptop, which I reported here yesterday: Taichi solves tablet/laptop dilemma: fit two screens.
Asus Windows RT Tablet 600 -- World's first Windows RT consumer device https://www.youtube.com/watch?v=YR5Xh_1U35s