Asus unveiled four tablet computers at CES, and my first thought was that the Slider would be the most attractive model. Having had my hands on both the Slider and the Transformer at the BETT education exhibition now on at Olympia in London, I've changed my mind. I like the Transformer better.
The Slider and Transformer use the same technology: both have 10.1-inch touchscreens and run Google Android on ARM-based Nvidia Tegra 2 chips. The difference is the packaging. The Slider has a hidden keyboard that's revealed when you slide the screen back so it stands up at an angle. The Transformer is a very slim tablet that slots into an optional dock that includes a keyboard. Once the screen is in the dock, it becomes, in effect, a netbook and folds up in the usual way. This protects the touch screen.
As well as providing a keyboard, the Transformer dock also includes an extra battery. This doubles the battery life from 8 to 16 hours.
John Swatton, Asus's marketing manager in the UK, said the Transformer tablet would cost £379 on its own, or £479 with the dock. The Slider version would be in the middle at £429.
Swatton said both devices would ship in this year's second quarter, possibly with Android 2.3 (Gingerbread) rather than the 3.0 (Honeycomb) announced at CES. Asus did not have final details or a delivery date for Android 3.0 but would ship the devices with the latest version available.
Update: John Swatton has just phoned me to say that the Transformer will appear in Q2 and the Slider in Q3 in the UK, and that "our goal is to ship them both with Honeycomb. We'll be able to provide you with an update at CeBIT."
Since it seems that dozens of companies are planning to ship Android tablets, it will be interesting to see whether there's actually a mass market for them. I suspect it will be a bloodbath and most of them will fail, but the Slider and Transformer are more innovative than most, and could deliver enough practical value to be among the survivors. Personally, however, I can think of more useful ways to spend £479.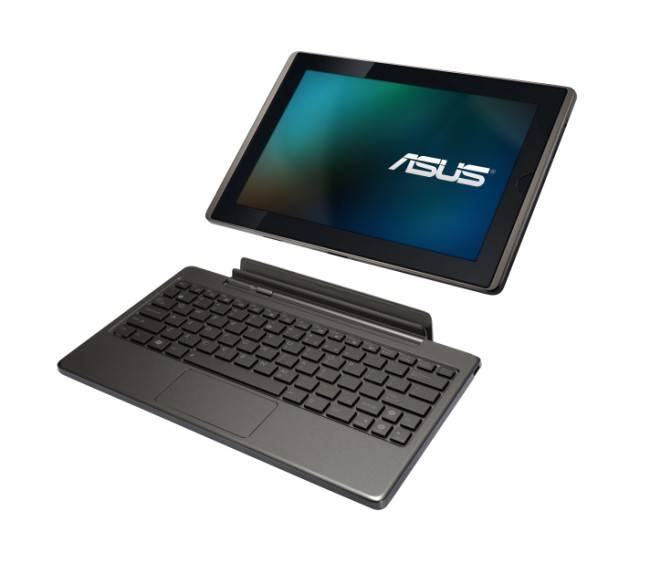 Asus Transformer