Google Alerts is supposed to alert you when your chosen keywords appear in Google News and sometimes other places on the web. It would be a great idea if it worked properly. In my experience, it misses the majority of stories, and its email alerts often arrive three or more days after the mention. Google should really change the name to something that means dozy and inattentive, if not stupid.
My two keywords are -- like many other people's or, I suspect, like many other journalists -- my name. Stories don't always appear as soon as they're submitted, so getting an alert can be useful. Also, it's pretty common for Guardian stories to prompt responses or comments on blogs, and it's useful to know about these as well.
Tracking "Jack Schofield" shouldn't be a difficult job for a huge company like Google, if it's anything like as smart as it thinks it is. Most of my stories either appear at http://www.zdnet.co.uk/jack (here) or are listed at http://www.guardian.co.uk/profile/jackschofield and http://journalisted.com/jack-schofield. Seriously, Google, how hard can it be?
Just to make it easier for Google, I have a page on Google Plus that links to my ZD Net blog, Ask Jack blog, Guardian profile, Twitter feed, Facebook page, Quora, LinkedIn and so on. I'm easy to find on PeerIndex and Klout, and I have an Amazon authors page, among other things. Even a very stupid search engine ought to be able to connect these prominent dots and avoid confusing me with a politician from Nevada, a Canadian pilot, and many other people with the same name.
Even on a personal level, Google knows me. I've been invited to Google's offices in London and Mountain View, I've interviewed several Google staff members (including Google's first employee, Craig Silverstein, and Vint Cerf), and Google even used to send me press releases.
In spite of all this, Google Alerts apparently can't find the majority of my stories, or alert me to them in a reasonable time.
In April, for example, I posted 13 stories on this ZD Net blog, and Google Alerts only notified me of four of them (31 percent) -- see the list below. In April, I had eight stories in the Guardian, and Google Alerts only notified me of one (12.5 percent). It didn't find any of the three stories in Tech In Style. Google Alerts' final score for April was five out of 25, or 20 percent. That's a fail.
In May, Google Alerts' score was three out of 20, or 15 percent, and it didn't find any of my Guardian stories, though it had indexed them. So far this month, its score is three out of 15 stories.
This simple record hides a few odd things. For example, I wrote a Guardian Obituary of Jack Tramiel, which was widely read and received some very positive comments. I followed it up the next day with Remembering Jack Tramiel, father of the Commodore 64 here at ZD Net UK. Google Alerts ignored both. However, A ZD Net UK gallery, A tribute to Jack Tramiel, father of Commodore 64, published the day after that, mentioned me in passing, and I promptly got a Google Alert for it. I can't see how that makes any sense at all.
In a similar case, Google Alerts ignored a ZD Net story published on 16 April (HMRC promotes mobile apps for record-keeping), but emailed me an alert the day after Tax Journal referred to it on 25 April (HMRC promotes record-keeping apps for small businesses).
Perhaps Google thinks Tax Journal is a much more important publication than either ZD Net UK or the Guardian.
However, Google Alerts did send me two notifications for posting links on Google Plus, while ignoring the many other links I posted on Google Plus. Great self-promotion? Since I already get G+ notifications in my Gmail mailbox, I'd be even happier if it ignored them all.
The result is that Google Alerts is basically unfit for purpose in my particular case. It works so badly, it's positively annoying. Indeed, it serves to confirm the impression I get from performing dozens of ordinary Google searches a day, and I just wish there was a reliably better alternative.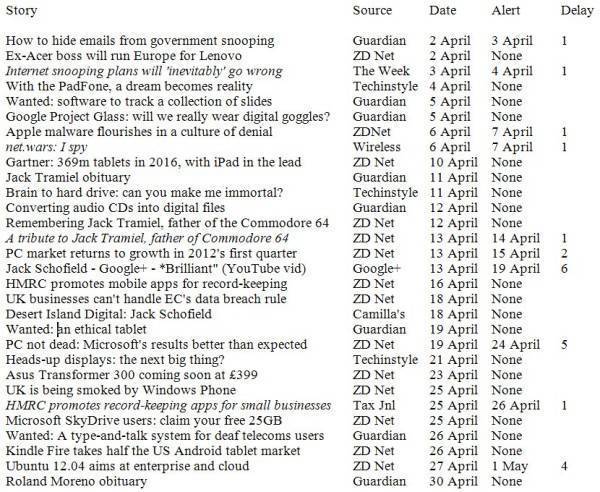 My Google Alerts for April, Items in italics are mentions not original stories. Delay is in days, so 1 day (next day) is not actually a delay.