Booming sales of smartphones helped the worldwide mobile phone market to grow by 19.8 percent to 371.8 million units in the first quarter of 2011, compared with the same quarter last year, according to research company IDC. "Increasingly, mobile phone makers and carriers are making smartphones affordable to a wider variety of people, which has helped drive the market to new heights," said IDC.
The growth in smartphone sales is putting pressure on feature phones. Ramon Llamas, a senior research analyst in IDC's Mobile Phone Technology and Trends team, said in a statement: "Even popular quick-messaging devices (phones with a QWERTY keyboard), once a bright spot within the feature phone market, appear to be losing steam as smartphones gain popularity. Still, IDC does not expect feature phones to disappear quickly as there is still strong demand across the globe."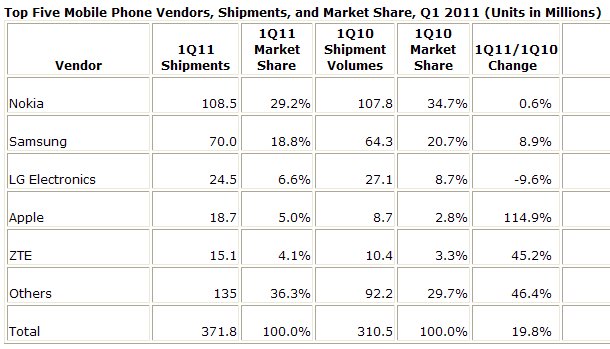 Source: IDC
IDC said Nokia's "Symbian-powered smartphones continued to find a warm reception," but the company only increased its unit shipments by 0.6 percent to 108.5 million. This was well below market growth, and resulted in Nokia's market share plunging by 5.5 percentage points to 29.2 percent.
Samsung, the second largest supplier, gained on Nokia and increased its lead over local rival LG, which suffered a fall in shipments.
Apple, not surprisingly, performed best, increasing its shipments by 114.9 per cent from 8.7 million units to 18.7 million. This resulted in a 5.0 percent market share.
IDC said:
"ZTE held on to the number 5 slot in the rankings thanks to strong year-over-year growth in countries and regions where it does particularly well, such as China and Latin America. ZTE primarily sells low-cost feature phones but the company is making a concerted effort to ship more smartphones, which are based on the Android operating system, this year. The company has said it will try to create brand awareness and sell more devices in developed markets, such as the US, this year."
The 'Others' category, credited with shipping 135 million mobile phones, includes companies such as RIM (Research In Motion), Micromax, and Huawei. The 'Others' grew their shipments by 46.4 percent, more than twice as fast as the market. IDC said this "shows that the overall market is still very much ripe for share gains."
IDC's numbers are for vendor-branded shipments and exclude OEM sales for all vendors. Manufacturers such as Foxconn don't appear in the table because they're making phones for brand-name companies such as Nokia and Apple.