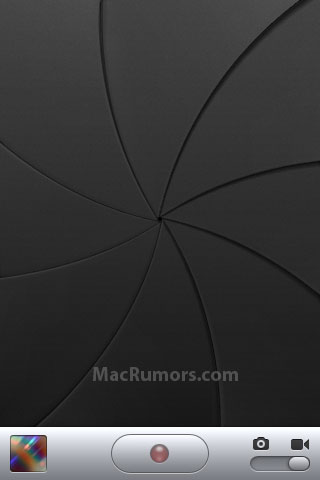 It seems like only yesterday that rumors swirled about several new features in the iPhone 3.0 hardware. Eagle-eyed developers pouring over Apple's iPhone 3.0 SDK have unearthed new clues that the new iPhone could get 802.11n, an FM transmitter, an FM receiver, up to 32GB RAM, a 3.2MP camera with video recording, editing and uploading features.
New information suggests that even more new features could be on tap for iPhone 3.0. MacRumors has confirmed the existence of the video recording feature (pictured) which will work via a small toggle switch at the bottom of the camera UI. The left setting will be for taking traditional still photos and sliding it to the right will enable the video recording option.
Configuration files intentionally hidden in the developer SDK release reference even more goodies, including an auto-focus camera, magnetometer (digital compass), and a mysterious preference labeled "Voice Control" that could indicate the presence of voice recognition and/or voice commands in the upcoming release.