Successful technologies usually diverge so that users end up with multiple products rather than one: for example, just count up the number of clocks, radios, phones and computers you have now, when until quite recently, there was usually only one per family. Indeed, one of the very few examples of a successful convergence product was the bedside radio alarm clock. However, the need for portability changes things dramatically. It's much more convenient to carry one device than half a dozen, even if it does the various separate tasks to a much lower level of quality.
This idea is best exemplified by the mobile phone, which for many people has replaced an MP3 player, compact camera, FM radio, tape recorder, personal organiser (PDA), personal navigation device (PND), handheld games console, and maybe other things as well. (I'm sure I'm not alone in using my smartphone as a bedside alarm clock.) Ironically, as the success of Apple's iPhone demonstrates, the multifunction phone doesn't even need to work very well as a phone.
This is good news for phone manufactures, and the iPhone has enabled Apple to pile up more ready cash ($76 billion) than the US government. It's bad news for single-function device manufacturers, as their markets stop growing or start to decline.
IHS iSuppli Market Research has just put some numbers on the effect in Rising Media Tablet and Smartphone Sales Cut Demand for Single-Task Consumer Products, which says it is "marking a fundamental shift in the history of the consumer electronics industry".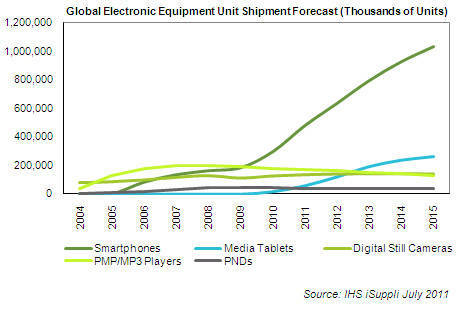 IHS iSuppli predicts that "smartphone shipments will increase to more than 1 billion units in 2015, up from 294.3 million in 2010. In contrast, global PMP/MP3 shipments are set to fall to 126.8 million units in 2015, declining at a CAGR [Compound Annual Growth Rate] of negative 6.8 percent from 180.1 million in 2010. Showing how dramatically market conditions have changed, PMP/MP3 shipments rose at a CAGR of 38.7 percent during the previous five-year period from 2004 through 2009."
IHS iSuppli also reckons that "PND shipments will decline to 37.2 million units in 2015, with a CAGR of negative 2.2 percent from 41.5 million units in 2010. This compares to a booming 88.9 percent CAGR from 2004 to 2009."
But wait, it gets worse. Quoting Jordan Selburn, IHS iSuppli's principal analyst of consumer platforms, the story says:
"Adding to the woes of single-task consumer products is the arrival of the media tablet. 'Media tablets, predominantly the Apple iPad at present, are truly a jack of all trades — and master of most,' Selburn said. 'This will put even more pressure on sales of single-task gear.' Although not directly acting as replacements for pocket-sized equipment, the media tablet increasingly will play an expanding range of roles for consumers, acting as an e-book reader, music and video player, browser, calendar, alarm clock, gaming platform, PND and camera all in one box."
IHS iSuppli expects shipments of media tablets to rise to 262.1 million units in 2015, up from 17.4 million in 2010.
As Selburn says: "The story of consumer electronics is an ongoing survival of the fittest, and multitasking systems such as media tablets will have a hand in turning yesterday's hot consumer electronics gear into tomorrow's fossils."