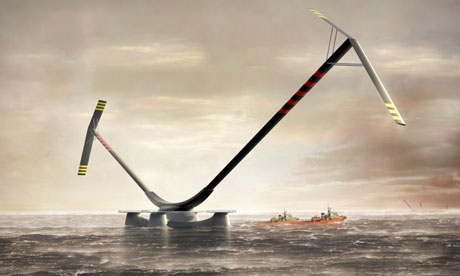 The future of wind power in Europe has been looking big.
The European Wind Energy Association figures, according to the Guardian, offshore wind power will jump to 150 gigawatts by 2030, compared to today's fewer than 2 gigawatts. And along with the industry's expected expansion, the turbines themselves may grow in size.
Last month, I mentioned a few European wind projects experimenting with large, floating turbine designs (see WindFloat: deepwater, floating wind turbines). Whether future windmills float or stand, at sea or on land, many engineers are taking a bigger-is-better approach to wind energy. While 3 megawatts of electricity is around what current large turbines generate, engineers have had their sights on 8-, 9-, 10-, even 20-megawatt wind catchers for some time.
Wind farms abound in Europe more so than in the U.S. but that doesn't mean American companies can't begin manufacturing more of the market share.
Clipper, for instance. The U.S. company tells The Guardian their 10-megawatt "Britannia" giants will stand 600 feet above the ocean's surface off northeastern England, generating about 2 million oil barrels worth of power within 25 years.
Another sign of potential domestic manufacturing growth could lie in our country's first-ever turbine blade testing facility. Construction of the Massachusetts Clean Energy Center (at right) is on its way, in partial thanks to $25 million in Department of Energy funding. As early as next March, commercial testing may begin on windmill blades as long as 300 feet.
From the DOE:
Blades are bolted to a 12-foot-thick slab of concrete that stands 40 feet tall and 80 feet wide. The static test determines the strength of the blade to find its breaking point and takes about two weeks. The fatigue test, which lasts three to six months, simulates the wear and tear of a blade, similar to repeatedly bending a paper clip back and forth.
The 50,000-square-foot-facility might help heighten the U.S.'s ability to compete with the big boys across the sea, such as the 10-MW "Aerogenerator X" design shown below. Recently announced by British company Wind Power, the second-generation Aerogenerator's blades may extend more than 900 feet long tip to tip when they start spinning (in a fashion similar to a sycamore's "helicopter seeds") sometime around 2013 or 2014.
10MW Aerogenerator X © Wind Power Limited & Grimshaw from Wind Power Limited on Vimeo.
Related on SmartPlanet:
Images: Wind Power Limited & Grimshawand Massachusetts Clean Energy Center
Via: The Guardian and MatterNetwork
This post was originally published on Smartplanet.com