Why you can trust ZDNET
:
'ZDNET Recommends': What exactly does it mean?
ZDNET's recommendations are based on many hours of testing, research, and comparison shopping. We gather data from the best available sources, including vendor and retailer listings as well as other relevant and independent reviews sites. And we pore over customer reviews to find out what matters to real people who already own and use the products and services we're assessing.
When you click through from our site to a retailer and buy a product or service, we may earn affiliate commissions. This helps support our work, but does not affect what we cover or how, and it does not affect the price you pay. Neither ZDNET nor the author are compensated for these independent reviews. Indeed, we follow strict guidelines that ensure our editorial content is never influenced by advertisers.
ZDNET's editorial team writes on behalf of you, our reader. Our goal is to deliver the most accurate information and the most knowledgeable advice possible in order to help you make smarter buying decisions on tech gear and a wide array of products and services. Our editors thoroughly review and fact-check every article to ensure that our content meets the highest standards. If we have made an error or published misleading information, we will correct or clarify the article. If you see inaccuracies in our content, please report the mistake via this form.
Close
How to get the Black card from American Express
You don't have to wait for an invitation to apply for the Black card - aka Centurion card - any longer. Now, you can ask for one.
Carrying the "Black Card," formally known as the Centurion card from American Express, gives you special status. It's rare and broadcasts that you're part of a small group of individuals who have exclusive access to the invitation-only elite card. Its inaccessibility makes it sought after by credit card hackers and American Express loyalists who won't settle for the Platinum card.
Now, American Express has loosened its grip on the Black card ever so slightly.
If you're not familiar with the Centurion Card, you're not alone. There's an air of mystery surrounding the card's perks, but what sets the card apart from others is the personal concierge service it offers cardholders. You may get a glimpse of what it's like to be a cardholder in Reddit posts or occasional articles. Delivering ice for your drinks, dropped off by helicopter to a remote island resort, is just one example of the lengths a Black card concierge will go to.
According to American Express, "We go above and beyond to help you from planning a vacation to dealing with an emergency." However, that's just the beginning of what you can ask for. According to a former concierge, if it's legal, the team will stop at nothing to fulfill your request.
intro bonusN/A
APR17.49% Variable for eligible Pay Over Time purchases
recommended creditExcellent
reward rates
Earn 1.5X Membership Rewards points per dollar on purchases over $5,000 (Up to 1 million additional points per calendar year)
Earn 1X Membership Rewards points on all eligible purchases
annual fee$5,000 Annual Fee
intro purchase APRN/A
rewards & redemption details
Earn 1.5X Membership Rewards points per dollar on purchases over $5,000 (Up to 1 million additional points per calendar year)
Earn 1X Membership Rewards points on all eligible purchases
Before you get too excited about joining the exclusive club of American Express Black cardholders, keep in mind that much of the information available about the card is anecdotal. We reached out to American Express, and the company representative's response was, "Centurion offers the highest level of benefits and services to its Members. However, we do not discuss benefit, service or selection details publicly."
Exclusivity
The card isn't available to everyone. In fact, even individuals with an excellent credit score and a long, positive track record with American Express may not be selected to apply. One thing's for certain: You'll need to be an existing American Express cardholder to qualify. The rest relies on the financial institution's secret criteria.
Black card holders tend to spend hundreds of thousands of dollars on the card per year. High spending isn't an official requirement to receive an invitation, but if you plan on getting on the Centurion team's radar, six-figure annual spending is the best way.
Card types
There are two types of Centurion cards: the personal Black card and business version. It may be easier to qualify for the business card. As with other corporate cards by American Express, a Black business card will reflect on your personal credit report and not the company's.
Membership fee
The Centurion card annual fee is the highest of all credit cards on the market. You'll need to pay a one-time initiation fee of $10,000 on top of a $5,000 annual fee just for the privilege of having a Black Card. Plus, adding other cardholders costs an extra $2,500 each per year.
In comparison, the Platinum Card's annual fee is $695 per year for many of the same services. The main difference could be the higher level of personal concierge services; it takes a large staff to hunt down hard-to-find products, tickets, and reservations.
Rewards
You'll earn the same level of rewards other American Express cardholders earn. The Black card doesn't accrue Membership Rewards Points any faster than other American Express cards.
Concierge
Centurion cardholders are typically assigned a personal concierge, available 24/7. You'll have a direct line to the person, who can serve as a personal assistant to handle nearly anything you need. However, there's a whole team behind the scenes dedicated to handling Centurion cardholder requests. As you can imagine, some requests can be time-consuming, such as locating the latest game console days before Christmas.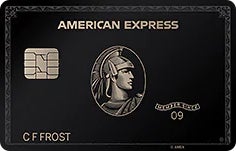 Black card (Centurion card) by American Express
How do you get an invitation for the Centurion Card?
If you'd like to speed up the process of getting an invitation, there is a way to send American Express a proverbial poke. A Centurion Membership interest page has recently appeared with little fanfare. The page explains that it's for existing American Express cardholders interested in being considered for the card. There's no guarantee you'll receive an invitation, but you've at least let American Express know you'd like one.
To request consideration for an invite, you'll need to enter:
Your first and last name
Existing American Express card account number

Four-digit security code found on the front of your American Express card

Is the Black card worth it?
If you spend hundreds of thousands of dollars per year on credit, the card can be a good option. However, it comes with a high price tag of $15,000 the first year, followed by $5,000 per year thereafter.
If you're looking for a premium card with excellent travel-related perks, the Black card isn't too different from the Gold card or Platinum card by American Express. In addition, you won't earn any more Membership Rewards points than what you'd get with the other cards.
Unless you rely heavily on the stellar concierge service for the Black Card, it may not be worth it. Keep in mind that American Express is extremely selective of who it offers a Centurion card to. You may not even receive an invitation after you have informed American Express that you're interested.
Who is the Black card for?
The American Express Black card is for higher-net-worth individuals who spend significantly. The typical Centurion cardholder spends hundreds of thousands of dollars (or more) per year. They regularly use the concierge services, which provide a dedicated concierge to fulfill requests, and don't mind the steep annual fee of $5,000.
Opinions expressed here are author's alone, not those of any bank, credit card issuer, hotel, airline, or other entity. This content has not been reviewed, approved or otherwise endorsed by any of the entities included within the post. 


Editorial standards