When it was time to upgrade my cell phone plan this weekend, I snagged an LG VX9900 (sold by Verizon as the enV).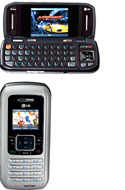 It flips open to reveal a full QWERTY keyboard (sized nicely for thumbs and a heck of an improvement over text input on a numeric keypad) and makes for really easy texting. Although I am still an utter email junkie, I find myself texting more and more: it's quick and easy (especially with a keypad) and offers the same asynchronicity that makes email so useful. My users can send me a text message in class without interrupting a lecture over the intercom and I can even send quick messages with information, assistance, or an ETA without disrupting classes.
Which leads me to Twitter. Admittedly, I'm a Twitter newb. I don't have time to text the world every time I take a coffee break. However, it seems like a neat forum in which to post quick thoughts I have on Ed Tech (or whatever) throughout the day. For those of you unfamiliar with Twitter, the site gives you a very simple page to which you can post "updates" from the Web, an IM client, or your mobile phone. It includes spiffy tools to integrate your updates into blogs or social network pages like this:
While lots of folks use it to literally follow each other (it's actually called following in Twitter parlance when you subscribe to someone's updates), it can also be used much like an RSS feed, pulling updates from anyone (or any group) with a Twitter page. It's actually kind of engaging. ZDNet has a Twitter page; David Berlind features his right in his blog. The question I have for you is this: Is there a way to integrate interesting technologies like this into the classroom? Can it be leveraged for collaboration or are you doing something really innovative with it? Take the survey and talk back below to let us know.
[poll id=27]