According to a post on Apptism, an iPhone app activity aggregator, the 20,000th iPhone app was added to the store some time yesterday. Apptism's Rob Libbey monitors the App Store hourly and constantly updates the total number of apps available. Here's the chart.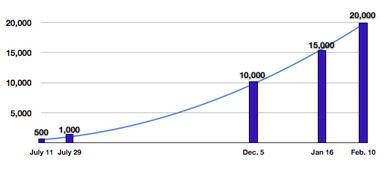 Macworld
notes
that if true (Apple hasn't confirmed the total yet) it would mean that 5,000 apps have been added in less than a month. The milestones:
11 July 2008 - The App Store opened with 500 apps
05 December 2008 - 10,000 apps
19 January 2009 - 15,000 apps
11 February 2009 - 20,000 apps
It's doubtful that the Apps Store can maintain its astonishing growth rate of almost 5,000 new apps per month (some still disputes the 20,000 figure) but the rash of stories about iPhone developers quitting their day jobs the trend will certainly continue for a while.
My current "page 1" apps are: Newsstand ($5), Briefcase ($5), Tweetie ($3), Notebook ($5), PCalc ($10), Google Mobile (free), Vlingo (free) and a bookmarklet for AccuWeather mobile which replaces Apple's lame weather app.