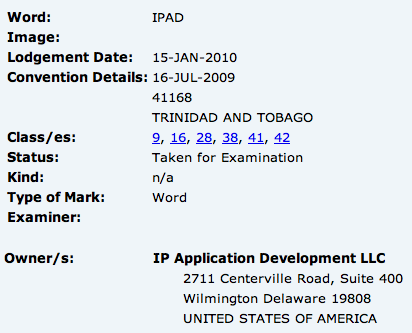 Recent rumors suggest that Apple could use iPad as the name for it forthcoming tablet Mac, which is widely expected to be announced on January 27.
MacRumors uncovered a trademark application that was filed in Canada on January 15, 2010 by "IP Application Development LLC" for the the term "IPAD" (pictured). (The company name translates to the acronym "IPAD")
The company can't be tied directly to Apple but Google's never heard of them (other than for applying for this trademark) and the address on the trademark is used by Corporation Service Company which provides registered agent services for "nearly half of the Fortune 500." Apple used a dummy corporation called "Slate Computing, LLC" (also based in Wilmington, DE, natch) to apply for a Canadian trademark for "iPad" in July 2009
In July we took a stab at naming Apple's new tablet here at the The Apple Core and I thought that iPad was horrible then – and I haven't change my mind since. It's one step above iReam. In that same piece iTablet was summarily rejected for having too many syllables (although I think that iTab has some legs).
So where does that leave us? I'll take iSlate over iPad any day, but I'm hoping that Apple has something better up its sleeve (name-wise) for next week.
Post your best name for the Apple tablet in the TalkBack.
Update: Some have suggested Apple recycle the term "iBook" or "Newton" for the new device. Just throwing that into the mix.