Last night at an event in London, Asus officially unveiled the first two Zenbook ultraportables, the UX21 and UX31, which will go on sale in the UK on October 21. Both machines are based on Intel's Ultrabook format. They represent Intel's attempt to take ultraportables similar to the latest versions of Apple's MacBook Air and make them mass market. Intel, co-hosting the launch with Asus, said it had "high hopes" for volume sales at this time next year. Intel's Dan Belton also looked forward to future versions using its next Ivy Bridge processors (current models use Sandy Bridge chips), with touch screens and Microsoft Windows 8.
Intel's aspirations and its cooperation with Asus are already well known. Intel introduced the Ultrabook concept at the Computex exhibition in Taiwan, where Asus co-founder Jonney Shih appeared on stage with Intel's Sean Maloney to show off the UX design. At the time, Maloney told me: "If we do it right, the PC Ultrabook will be 40 percent of the notebook market in about 18 months."
The ZenBooks are very tiny and shiny shiny, but so extremely thin that they are slightly tricky to open. (Presumably it's easier when you get the knack.) When opened they resume in about two seconds, which is several times faster than the MacBook Air. For those of us who have spent a decade wishing that Windows would resume in something even remotely like the same speed as Mac OS X, this is an unexpected pleasure.
Both ZenBooks are nicely finished aluminium monocoques, and run 64-bit Windows 7 Home Premium.
The UX21 has an 11.6-inch screen with a resolution of 1366 x 768 pixels. Inside it has an Intel Core i5-2467M processor with 4GB of memory, a 128GB SSD (solid state disk), plus USB 2.0, USB 3.0, microHDMI and miniVGA ports, Bluetooth and Wi-Fi. The overall dimensions are 297 x 196mm, with the thickness ranging from 3mm at the front to 17mm at the rear. Weight is 1.1kg. Battery life is 5+ hours. Price is £849.
The UX31 has a 13.3-inch screen with a resolution of 1600 x 900 pixels, and an Intel Core i7-2677M processor. Otherwise the spec is the same except for the inclusion of an SD card slot. The thickness is the same as the UX21, but the overall dimensions are 325 x 224mm. Weight is 1.3kg. Battery life is 7+ hours. Price is £999.
Nominally, these are the same as Apple's entry-level prices, but the Asus systems offer better features for the money.
The £849 UX21 has the same specification as a MacBook Air costing £999 in the UK. Asus also bundles an Ethernet adaptor for which Apple charges £25, making the price difference £175. Buying an HDMI adaptor would add another £34.95.
The £999 UX31 has the same specification as a MacBook Air costing £1,449 in the UK, since Apple charges £100 for the upgrade from a Core i5 to an i7 processor. However, as SoapyTablet points out in a comment below, this model includes a 256GB SSD instead of a 128GB drive. You can deduct what you think this is worth from the £450 price difference (or £474 including the Ethernet adaptor), making the UX31 around £200 to £300 cheaper. [Corrected paragraph]
Many other PC suppliers will launch Ultrabooks in the future, and the Intel Capital Ultrabook Fund has been set up to invest $300m "to create a cycle of innovation and system capabilities for this new and growing category of mobile devices".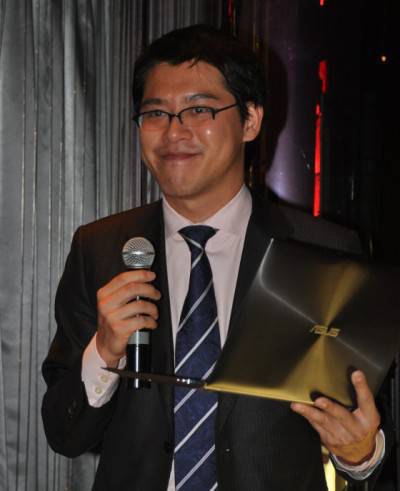 Asus UK managing director Ben Yeh launching ZenBooks at the W hotel in London. Photo ©Jack Schofield