The BBC's 25-year-old Domesday project been brought back to life at Bletchley Park. At a press conference today, The National Museum of Computing (TNMOC) unveiled one of two working examples of a new touch-based version, which includes information updated to 2011. The system has been produced by the BBC's Domesday Reloaded project -- Peter Armstrong worked on both -- with the help of The National Archives.
The BBC's Domesday project was released in 1986 to celebrate the 900th anniversary of William the Conqueror's Domesday Book, which took stock of his new property. The BBC divided the UK into squares and encouraged more than a million people, most of them schoolchildren, to create an up-to-date snapshot of everyday life.
Unfortunately, the Domesday discs were soon rendered unreadable due to the lack of compatible equipment. Rather than lasting a thousand years, which the Domesday Book will do, it barely survived a decade. It had been written to bolster the BBC-sponsored Acorn BBC range of computers, which were popular in schools but failed in the marketplace. Also, the discs were distributed on a special type of Laser-Disc, which vanished even quicker than BBC Master computers.
The hope was that a Domesday system would be available in every school and public library to provide information that was not widely available in the decade before the web started to take off. (In 1986, the web hadn't even been invented.) And while its failure was obviously a bit of a disaster, it did illustrate the value of supporting global de jure and de facto standards… or at least having a viable escape route.
The data from the BBC Domesday system was eventually "rescued" by the trans-Atlantic CAMiLEON (Creative Archiving at Michigan & Leeds: Emulating the Old on the New) university research project, which emulated the BBC Micro and videodisc player in software. As I reported in the Guardian in 2003: "This three year project was set up to investigate the use of computer emulation as a way of preserving data, and Paul Wheatley, the UK project manager, says his team devoted its final year to the Domesday discs as a 'proof of concept'." (Digital dark age looms)
However, the Domesday Reloaded says: "In early 2003 Andy Finney, a producer on the original project and now working on behalf of the UK National Archives, arranged for high quality digital copies of the Domesday videodisc master tapes to be made. This also provided the photographs and maps used on the Domesday Reloaded website."
Domesday Touchtable runs on a large touch-screen surface from San Jose-based PQ Labs*, which is available in a range of sizes from 32 to 103 inches at unspecified prices. There are apparently three in the UK, including another one running Domesday Reloaded at the BBC's MediaCity complex in Salford.
TNMOC's press release says:
The Domesday Touchtable is a 52-inch, true multi-touch screen that operates as smoothly and seamlessly with pinch, zoom and rotate controls as today's highest spec computer tablets. The interface has 12 simultaneous touch-points and four users can use the table individually or collaboratively swapping and comparing files as they explore over 50GB of maps, photos, articles and videos. It has on-board audio and its very high-spec graphics are similar to those used in games machines."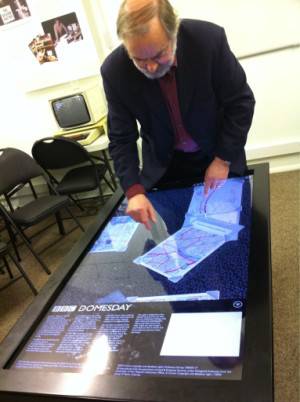 Peter Armstrong, who led the BBC's original Domesday project, with a new Domesday Touchtable at TNMOC today Photo © Dr Sue Black
TNMOC has put the Domesday Touchtable alongside an original Acorn BBC Domesday system, which "is already very popular with museum visitors", according to TNMOC's learning co-ordinator Chris Monk. "Accessing the 1986 and 2011 data on this exciting new Domesday Touchtable is certain to be a great success with our growing number of school and college visitors and the general public," he says.
It will be available to the public from Thursday afternoon, 8 December 2011. TNMOC already has a vast amount of fascinating stuff on display, but anything that encourages more visitors is to be applauded.
* I'm now informed that: "Technically, the touch screen [is not from PQ Labs], it's their touch overlay, and that's married with a screen from Sharp". The system was developed in London by eMoot. For more information, see the follow-up post, BBC's multitouch Domesday table developed by eMoot.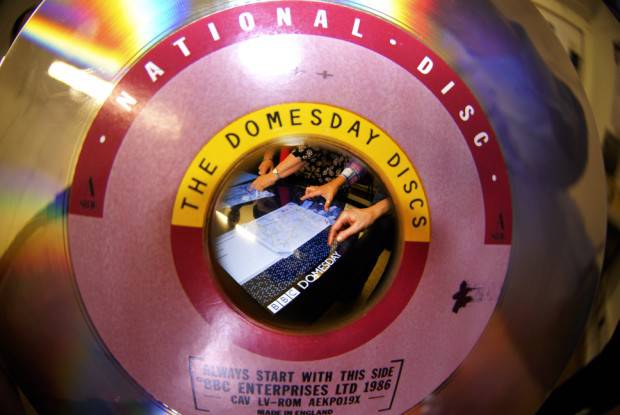 Laser disc, meet Touchtable… Photo by John Robertson for TNMOC