The National Museum of Computing (TNMOC) held a press conference at Bletchley Park yesterday to unveil one of only two working examples of a new touch-based version of the 25-year-old BBC Domesday system. The focus was on the content and its history, with very few technical details being provided. However, it appears that the Domesday Touchtable was developed by London-based eMoot Limited. The company -- which includes some notable former BBC staff -- provides multitouch tables, kiosks and display walls for exhibitions, museums, and science and visitor centres, as well as video and other media services.
eMoot's previous work takes in the Tower of London Welcome Centre, Shipwrecked! at Merseyside Maritime Museum, Peter Rabbit's Garden at the Smithsonian in Washington, and the Western Wall Explorium in Jerusalem.
Aerian Studios, which is based in Bath, says it "conceptualised the project, as well as designing the user interface and graphics," while working closely with the BBC Domesday team.
In an earlier post, BBC's Domesday is reloaded in giant multitouch format, I said that the "Domesday Touchtable runs on a large touch-screen surface from San Jose-based PQ Labs, which is available in a range of sizes from 32 to 103 inches." While we could quibble about "surface", this is not quite correct.
"Technically, the touch screen [is not from PQ Labs], it's their touch overlay, and that's married with a screen from Sharp", I'm told.
In fact, eMoot offers a range of multitouch display products including the DiscoveryTable. This comes in sizes of 42 inches, 52 inches (as used in TNMOC's Domesday installation) or larger, and "can support 2, 6 or 32 simultaneous touches". eMoot says "the overlays support all the standard MultiTouch interfaces including Windows 7, TUIO and Flash TUIO."
My report also mentioned the Windows 7-based Microsoft Surface 2, which is the latest version of a similar touch-based table, though it works in a different way. Surface 2 was first shown at CES in January, and is now being manufactured by Samsung as the SUR40 (the 40-inch screen version). It is being adopted by some companies -- banks, large hotels, casinos etc -- mainly as an attention-getting way of delivering information to customers, though by PC industry standards, sales must be minuscule.
I'm told that eMoot's DiscoveryTable had two major advantages over the Microsoft Surface 2. First, it could provide a bigger screen, and so handle more people at once. Second, it was actually available, while Surface 2, wasn't -- "certainly not in the timescale of this project". However, "the Domesday software would indeed run pretty much unaltered on the MS hardware."
This is reassuring. While it won't last as long as the Domesday Book, the Domesday Touchtable should last longer than the first BBC version. This was based on an Acorn BBC Master computer and Philips LV-ROM laser discs, and had an embarrassingly brief life.
It could prove even more useful if the Microsoft Surface 2 ever comes down to the sort of price that would be attractive to schools, colleges and libraries, because they could also use it to run other touch software. That's not out of the question. The SUR40 has a US price of $8,900, which converts to £5,695 (excluding VAT). The BBC AIV system used for the original Domesday system cost £5,156.75 (including VAT) in 1986. Allowing for inflation, the Surface 2 is already cheaper.
Of course, most schools couldn't afford to buy a BBC AIV system way back then, and most couldn't afford a Surface 2 now. But some undoubtedly could.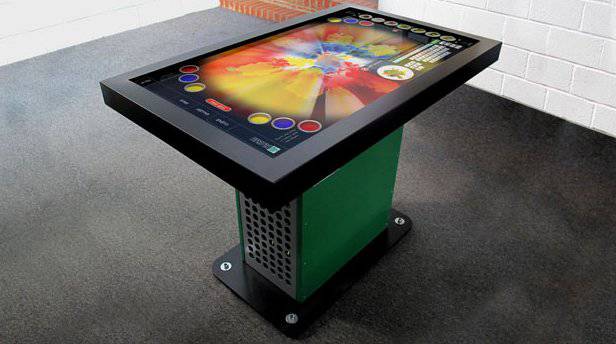 eMoot's MultiTouch Art Machine, designed for science centres and art galleries, is based on the DiscoveryTable.