European PC market slumps 11 percent, says Gartner
PC shipments in Western Europe fell by 11.4 percent to 14.
PC shipments in Western Europe fell by 11.4 percent to 14.8 million units in the third quarter of 2011, according to preliminary numbers from Gartner. The market was hit by the decline of netbooks compared with the same quarter last year, and by Acer's now-familiar channel problems. Of the major European countries, only France did relatively well, with a 2.1 percent decline. That was thanks mainly to Asus increasing its shipments in that country by 44.4 percent, and the strength of the French professional market, which grew by 10 percent.
"The results … make unpleasant reading for the PC industry, as the third quarter is traditionally a strong consumer quarter, driven by back-to-school sales," principal analyst Meike Escherich said in a statement.
In Western Europe, HP retained the top spot, shipping 3.4 million units for a market share of 22.7 percent. Although shipments fell by 7.5 percent, HP increased its market share by 0.9 percentage points.
HP was followed by Acer, Asus, Dell and Apple. Asus increased its shipments by 20.3 percent and Apple by 19.6 percent, while Acer's shipments tumbled by 45.1 percent, and Dell's by 10 percent. As a result, Asus climbed above Dell.
Escherich said: "Acer's continuing inventory problems opened up the channel for Asus and other vendors to push their own shipments."
In the UK, shipments fell by 10.8 percent to just under 3 million units. HP was the market leader with quarterly shipments that fell by 9.4 percent to 567,000 units. HP was followed by Dell, Acer, Apple and Samsung (see table below).
Acer did even worse in the UK, with shipments down by 53.1 percent. Samsung benefited, increasing its shipments by 39.0 percent, while Apple increased shipments by 21.8 percent.
Gartner's UK-based research director Ranjit Atwal argued that "more importantly, quarter-on-quarter, all vendors saw growth apart from Acer, suggesting the fluctuations in the market may be bottoming out."
In France, third quarter PC shipments fell by 2.1 percent to 2.7 million units. HP was the market leader with shipments that fell by 5.1 percent to 647,000 units for a market share of 24.1 percent. HP was followed by Acer, Asus, Dell and Toshiba.
Isabelle Durand, Gartner's principal analyst for France, said: "The consumer PC market declined 9.2 percent mainly because the demand for mini notebooks [netbooks] was lower compared with a year ago." However, "the professional market saw more demand for mobile PC replacements with Windows 7 migration, and the segment increased by 10 percent in the third quarter of 2011."
In Germany, shipments fell by 7.9 percent to 3 million units in the third quarter. As usual, HP was the largest vendor, increasing its shipments by 21.2 percent to 473,000 units and a market share of 15.8 percent. HP was followed by Acer, Asus, Fujitsu and Dell.
Acer's shipments fell by 42.2 percent, while Fujitsu -- which has absorbed Siemens' PC business -- increased its shipments by 26.4 percent, thanks partly to more aggressive pricing in the business PC market.
Escherich said: "As expected, back-to-school PC sales were disappointing as the popularity of non-PC devices, such as media tablets and smartphones, diverted consumer spending from PCs. Exceptionally low consumer demand resulted in a 17 percent decline in the home segment." As in France, however, the professional market did better. Escherich said:
"Demand in the professional PC market has improved as organisations released budgets to migrate aging PCs to Windows 7. HP in particular seemed to benefit from this upturn in the professional market, and it showed above-average growth. During the third quarter nearly every one in four professional PCs was shipped by HP."
This is an impressive performance considering that HP was operated under something of a cloud after the company's boss -- who has since been replaced -- suggested the Personal Systems Group might be sold or spun off.
While the PC market compared badly with last year's third quarter, it wasn't so bad compared with this year's second quarter. Escherich said: "Quarter-on-quarter growth of 23.5 percent could be seen as an indicator that the PC market in Germany is at least stabilising, and maybe has bottomed out, as shipments finally settle on new lower growth levels."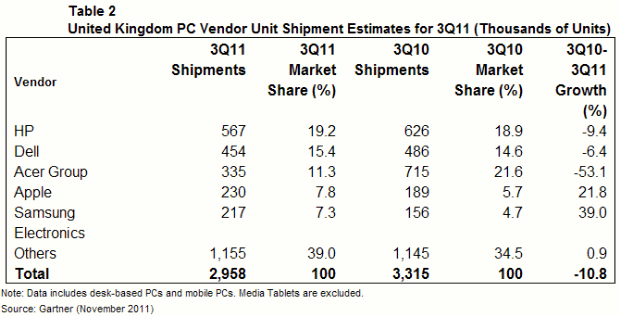 Editorial standards