Gartner has predicted that worldwide media tablet sales will double to 118.9 million units this year, and reach 369m units in 2016. However, Apple's iOS and Google's Android will remain the dominant operating systems, with Microsoft languishing in a distant third place, despite Windows 8.
Gartner research vice president Carolina Milanesi said in a statement on Tuesday: "Despite PC vendors and phone manufacturers wanting a piece of the pie and launching themselves into the media tablet market, so far, we have seen very limited success outside of Apple with its iPad."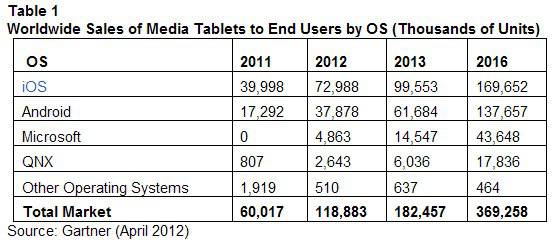 Gartner predicts that Windows tablets will take 4.1 percent of media tablet sales this year, and grow to 11.8 percent by the end of 2016. Presumably this refers to WOA (Windows on ARM) tablets, since full-function tablets running Windows 7 -- which Microsoft calls "slates" -- are already counted as PC sales.
However, where Apple and Android tablets appeal mainly to consumers, Windows 8 tablets may appeal more to companies. Milanesi says: "IT departments will see Windows 8 as the opportunity to deploy tablets on an OS that is familiar to them and with devices offered by many enterprise-class suppliers. This means that we see Windows 8 as a strong IT-supplied offering more so than an OS with a strong consumer appeal."
Even if this is the case, enterprises would still be buying more iPads than Windows tablets in 2016, because of the higher volume of iPad sales. This is partly because of "buy your own device" (BYOD) programmes where business users will typically choose consumer-oriented products. "This poses a big threat to vendors that thought about focusing on the enterprise market who will now have to become appealing to consumers as well," Milanesi says.
Nor has Gartner written off RIM's BlackBerry offering. It is predicting annual sales of almost 18m QNX machines in 2016. Presumably, these would mostly be corporate purchases.
The predictions could disappoint Android users, considering the much greater range and variety of Android tablets. Although Gartner sees the iPad's market share tumbling from 66.6 percent last year and 61.4 percent this year to 45.9 percent in 2016, it will remain the market leader.