Google has announced that it is field testing a new social network called Google+, or Google Plus, which it calls a project rather than a product. However, watching Google's happy clappy video demos suggests it's likely to join the company's long string of social failures, which now include Orkut, Knol, Google Lively, Google Answers, Wave, Buzz, Sidewiki, Profile pages and the bought-in Jaiku (Google's not-Twitter) and Dodgeball (Google's not-Foursquare).
It appears that Google is redesigning its home page to have a Blogger-style black band or Sandbar across the top, where Google+ will appear as a new menu option. The Google+ profile page lets you post things in the same way as Twitter or Facebook, the problem being that there's almost nobody there to read them. And quite why anybody would sign up for what might well be their fifth or sixth social network -- after Facebook, MySpace, LinkedIn, Twitter etc -- remains a mystery.
With Google+ Circles, Google is offering a way to organise different circles of friends. However, Facebook already offers lists and closed user groups, which enable groups of users to discuss things in private. Google's graphics are prettier, but people don't spend hours on Facebook because they think the graphics are pretty.
How well it will actually work is another matter. One early field tester, Danny Sullivan from SearchEngineLand.com, just "plussed" (tweeted?) on his public page shown below: "It's .. just .. so overwhelming. I'm losing track of who is in what circle, who actually is in the network. I don't know. I need to study more."
At least on Facebook, you know who your friends are, even if they're not really friends….
But according to Steven Levy in a very long Wired feature, Google+ is just one part of a massive project code-named Emerald Sea, which is being closely supervised by chief executive and co-founder Larry Page. It involves more than 100 launches, using an approach that Google calls "rolling thunder".
"We're transforming Google itself into a social destination at a level and scale that we've never attempted — orders of magnitude more investment, in terms of people, than any previous project," says Vic Gundotra, who leads Google's social efforts.
Levy adds: "As early as last August, I asked Gundotra whether he felt Emerald Sea was a bet-the-company project. 'I think so,' he replied. 'I don't know how you can look at it any other way.'"
Having tried it, Sullivan concludes:
"As I said earlier, if you're happy using Facebook, there seems relatively little to make you want to switch over to Google Plus, at the moment. Perhaps with further Google +1 integration, that might change. Perhaps if there are people who want a Facebook alternative, Google's now got a core to build on for them. At least the guessing about what Google might be doing is over."
I have not tried it, and I could well be wrong, but there are two reasons why I'm sceptical.
First, Google has a terrible track record when it comes to anything related to social. The more products Google tries, the less I feel like mustering the considerable energy it takes to use these things, and the less likely I am to ask my friends to follow me to Google+.
Second, I don't believe that Google is doing this to organise the world's information: the company's mission statement. Google+ is based on fear and greed: the fear that Facebook is going to make search less relevant, and therefore make Google advertising less profitable. I'm sure Vic Gundotra, who spent 16 years at Microsoft, understands this well.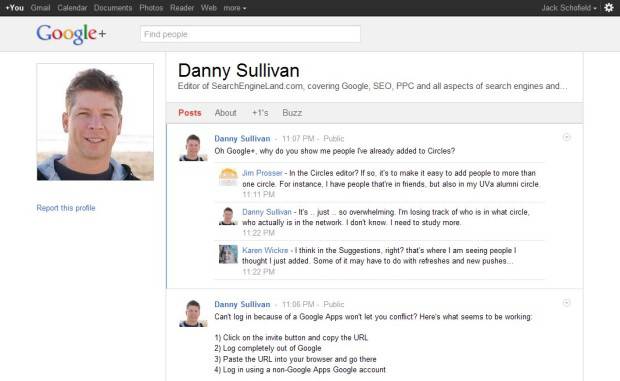 Danny Sullivan's Google+ page