Microsoft Windows 7 is the fastest-selling PC operating system of all time, which it should be because the market is bigger now than when Vista and XP were launched. There's still some uncertainty about when -- not if -- it will be bigger than XP, but on StatCounter's numbers, Windows 7 has already overtaken XP in the UK.
StatCounter's UK graph for April, below, shows Windows 7 at 34.1%, with XP on 29.5%, Vista on 24.3%, Mac OS X on 9.4% and Linux on 0.75%. If the graph is correct, Windows 7 overtook Windows XP in February.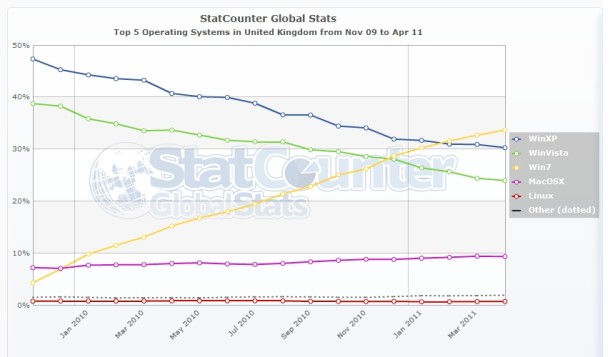 Like other companies, including NetApplications, StatCounter collects its data from a global network of websites. With three million sites, it's registering billions of hits. The charts are then compiled from raw data, which is what NetApplications does not do. StatCounter's FAQ says:
"We do not manipulate the data in any way. We do not collate it with any other information sources. No artificial weightings are used. We simply publish the data as we record it."
The problem is that if we don't know what the sites are, we don't really know what the numbers mean. Some technology websites, for example, saw Windows 7 overtake XP last year, while websites that are mainly used by large corporations may not see that until next year.
Of course, everybody also has their own opinion of how far and how fast the market is changing, based on their personal experience. However, whether StatCounter is right or wrong about XP's position, its website tracking certainly shows the trend.
If Windows 7 has not yet overtaken XP in the UK, it's just a matter of time.
Last month, I reported that Gartner was giving companies A wake-up call on Windows 7 migration. StatCounter's chart is another.
There's no great pressure on consumers to move to Windows 7, because it requires little or no planning, and they can do it in a day or two. Historically, we know most will upgrade only when they buy a new PC. However, large companies with hundreds or even thousands of programs to test and fix, and tens of thousands of PCs to migrate or replace, may already be running out of time. And this could well be a problem for companies that have not upgraded their web browsers for ten years.
The failure to keep up with the times may save money in the short term, but usually builds up a "technical debt" (PDF) that has to be paid eventually. The bills are now starting to come in.