Hewlett-Packard held an extravagant champagne party at the Mayfair Hotel in London on Wednesday night to unveil its new TouchPad tablet, launch date and prices. Suffice it to say that the TouchPad not only follows the almost 10-inch screen size established by the Apple iPad, it also follows its prices exactly: the 16GB Wi-Fi version costs £399 with the 32GB model at £479. Both will go on sale in the UK on July 15 via six outlets: Amazon, Argos, CarPhone Warehouse, Comet, Dixons (PC World, Currys), John Lewis. But the big question about the TouchPad remains: will anybody buy it?
The TouchPad has at least three major problems: timing, apps, and price. In all three cases, Apple's iPad 2 will stand in the way of sales....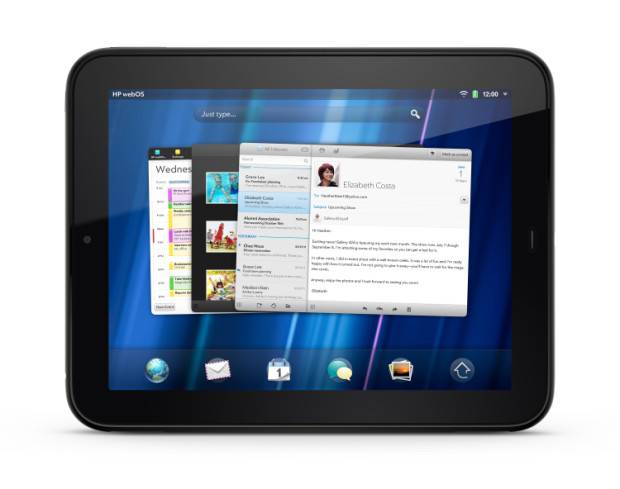 HP TouchPad showing cards and Just Type window
The TouchPad is the fruit of HP's $1.2bn purchase of Palm and its WebOS operating system in April 2010, so it has been developed at some speed: very much faster than the iPad, for example. However, the fact remains that it's a relatively late entrant to a market that is now dominated by the iPad, and that already contains several challengers running Google's Android operating system. It's a race where not everyone can win or place.
The TouchPad also appears to be a long way behind Apple and Android in the race to build a comprehensive app store. HP has barely got going, and could find it hard to attract the tens of thousands of developers that support those, or support Microsoft's operating systems.
As mentioned, HP's prices are exactly the same as the Apple Store's iPad 2 prices, so there's not even a small saving to be had, unless the TouchPad gets discounted.
Of course, the TouchPad also has some advantages. HP trumpets the integration that leads to its "Just Type" system, a level of multitasking far beyond the iPad 2's limited capabilities, the wireless charging system, and "Touch to Share", which establishes a Bluetooth connection with a WebOS-based mobile phone. The interface, while not the fastest, is also well designed, being based on a system of "cards" that you can flick through and sometimes stack.
But the typical iPad buyer isn't looking at its technical capabilities, and it could be tough making sales on the TouchPad's tech specs. And while there might be some corporate interest, that's unlikely to survive the arrival of Windows 8 tablets that are far more capable, and will actually integrate with everything else in the enterprise.