Amazon's Kindle Fire has taken more than half of the US market for Android tablets, according to research released by ComScore today (Thursday). This has reduced the market share of most but not all rival tablets, with the Asus Transformer holding up and Lenovo's IdeaPad growing from a small base. Either way, it's bad news for Google that a forked version of its software -- which has a different user interface and does not use its marketplace -- is taking over the non-iPad segment of the American tablet market.
ComScore says "the Kindle Fire has almost doubled its share in the past two months from 29.4 percent share in December 2011 to 54.4 percent share in February 2012, already establishing itself as the leading Android tablet by a wide margin." Samsung's Galaxy Tab family was second with 15.4 percent in February, followed by the Motorola Xoom, Asus Transformer and Toshiba AT100: see the table below, based on web traffic measurements.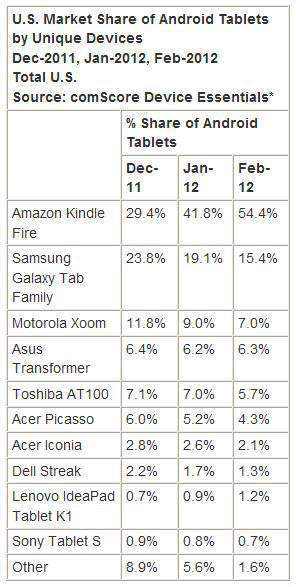 Tablets are available in a wide range of screen sizes from the Dell Streak (5 inches) to the Apple iPad (10 inches), and ComScore has noted users with larger screens access more web pages. The number increases from 79 page views on a 5 inch screen through 90 on a 7 inch screen to 116 on a 9-inch screen. The 10 inch tablet comes top with 125 page views
Amazon is known to have developed a 10 inch tablet at the same time as the 7 inch Kindle Fire, though so far it has shown no sign of launching such a thing. Google has also been working on a Nexus tablet, and at the end of March, the Wall Street Journal claimed that Google will sell "co-branded tablets directly to consumers through an online store like rivals Apple and Amazon.com Inc [in] an effort to turn around sluggish sales of tablet computers powered by Google's Android software".
ComScore does not offer any opinion on the Kindle Fire's success, but the $199 price must be a factor, along with its connections to Amazon's media content.