It's a good sign if other members of the family want to use any of the laptops that pass through my hands, and it happens less often than you might think. Lenovo's ultraportable Ultrabook U300s turned out to be a star in that particular category. Not only is it impressively thin and light -- it's 1.49cm deep and weighs 1.32kg -- it also has a touch of class. Business class if you have the Slate Grey version, though it's also available in a more feminine Clementine Orange.

Some Ultrabook laptops, which are based on an Intel design specification, follow Apple's current MacBook Air design in being wedge-shaped, though having an ultrathin front edge has no practical advantage. The Ultrabook U300s is more conventionally book- or magazine-shaped. You can think of it as, in effect, a slimline version of the Lenovo U300.
Which is not to say there are no Apple influences. The IdeaPad U300s, for example, has a metal unibody construction and a large multi-touch trackpad. It is also missing the Intel and Microsoft Windows stickers that upset design purists. These are now non-removably part of the underneath of the case.
The isolated keyboard is above average for an Ultrabook, and for my touch-typing, it's nicer than the MacBook Air's. However, it's not as quite good as the more expensive Lenovo ThinkPad models, let alone the keyboards IBM used to fit before the Chinese takeover. It also has a too-small Enter key, and like most Windows laptops, it lacks backlighting.
The 13.3-inch VibrantView LED screen is about average, but provides rich colours at the right angle. While described as "glossy", it doesn't have the sort of ultra-glossy finish that now seems annoyingly common. You can run software without seeing your reflection.
The U300s is a convenient machine to carry around. It comes up from sleep in a couple of seconds, and the Flash-memory based SSD (solid state drive) means you start working very quickly. This has been one of the MacBook's advantages for the past decade, and it has taken PC manufacturers far too long to narrow the gap.
Lenovo quotes a battery life of "up to 8 hours" with the non-removable 4-cell battery. This could be attainable if you turn off Wi-Fi and Bluetooth, set Energy Management to "Optimize For Battery Runtime," and don't have the screen too bright. In my normal use -- word processing and web browsing on Wi-Fi, brightness turned up etc -- it seems to run for five to six hours, which might get you through a day. Fortunately, the charger is very small and will give the battery a 70 percent charge in about 40 minutes.
The U300s is certainly snappy in use, thanks to the dual-core 1.6GHz Intel Core i5 processor, 4GB of memory and 128GB SSD. (Extra cost options include a Core i7 and 256GB SSD.)
It uses the Core chips' integrated HD Graphics 3000, which is fine for business purposes, including video: the U300s has an HDMI port and also supports Intel's WiDi for wirelessly driving an external monitor. It also has small but clear stereo speakers. There's a full specification (PDF) online.
A useful extra is what Lenovo calls "one button recovery". At the push of an external button on the left hand side of the case, you can restore the U300s to factory condition from the recovery partition, or to your own backup.
As usual with ultraportable PCs, there are a few omissions, too. The U300s lacks an RJ-45 Ethernet port, which I frequently need in hotels, and an SD card slot, which I use all the time for copying files from my digital cameras and audio recorder. Also, there are only two USB ports, though one of these supports USB 3.0.
While it's not strictly a drawback, since it's common to all today's best laptops, the U300s is powered by last year's Sandy Bridge versions of Intel's Core processors. Smaller, faster Ivy Bridge versions are due later this year. The machine also runs 64-bit Windows 7 Home Premium, and Windows 8 is due towards the end of the year.
Ultraportables such as the IBM ThinkPad X61 and Sony Vaio X505 have always been premium priced, but the U300s is comparatively cheap at a street price of £799. This is £300 less than the comparable 13.3-inch MacBook Air, which costs £1,099 from the Apple store (and rather more if you have to buy a copy of Parallels Desktop and Windows 7 as well). However, the MacBook Air supports a screen resolution of 1440 x 900 rather than the U300s standard 1366 x 768 pixels, and it has a Thunderbolt port instead of USB 3.0, so they're not directly comparable. If you need higher screen resolution, the Asus UX31 Zenbook provides 1600 x 900 pixels.
While the U300s is the star from this range of IdeaPads, Lenovo's U260 is a much cheaper model with a 12.5-inch screen and a 320GB hard drive instead of an SSD. This means it's slightly thicker and heavier than the U300s, though it's still an ultraportable. The IdeaPad U400 is like the U400 but with a 14-inch screen, a 750GB hard drive and a Core i7 processor.
There's a lot to like about the Lenovo U300s, but it's just one of the first wave of Ultrabooks. The second wave could well be more interesting.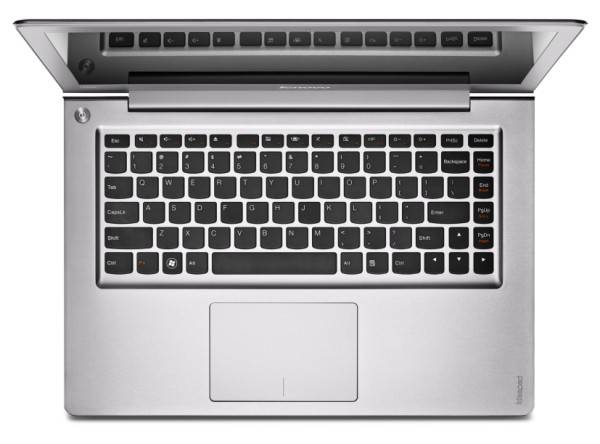 View from above shows large trackpad and US keyboard layout. Photo: Lenovo