The final release of Linux Mint 8 (Helena) KDE Community Edition is available for download. I wrote about the Release Candidate of this a couple of weeks ago, so I won't add too much more now. I'm still more of a Gnome desktop user than KDE, but as KDE 4 gets better and better, and combined with the excellent integration with Linux Mint, this one is a real alternative for me.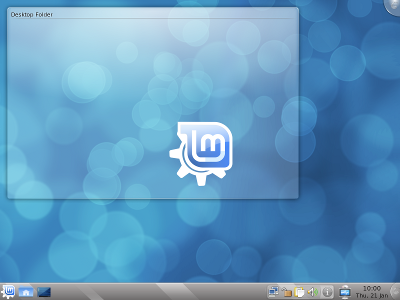 The first thing to be aware of is that with KDE added on top of the Linux Mint distribution, the size of the Live Image is about 1.1Gb. Of course that's too large to fit on a CD, so we are talking about a LiveDVD here. That shouldn't be a problem these days, but it is worth knowing in advance.
For those who are not familiar with Linux Mint already, it is based on the latest Ubuntu distribution (9.10 in this case), with a lot of extremely useful and easy-to-use "Mint-utilites" added, and a lot of other additional packages and programs which make it a lot more useful "out of the box". For FOSS purists, be aware that the standard Mint distributions include various proprietary and non-FOSS software, but now they also have a "Universal Edition" which they describe as "without including proprietary software, patented technologies or support for restricted formats". (There is not a Universal Mint KDE edition that I know of, however).
There is a good "What's New" document that gives a lot of information about the new release. So, I am now in the process of downloading the image, burning it to a DVD, and installing it on some of my notebook/netbook/nettop systems. I will post again here when I have it running on a few systems. One thing I can already say, I like the graphical installer even better than the standard Mint (Ubuntu) installer. It may be that this is the same one used by Kubuntu, I haven't installed that in quite a long time so I don't know what it looks like any more. But this is nice, clean, easy to use and easy to understand.
Enjoy!
jw 7/2/2010