Notebook PCs and media tablets are clearly different beasts, and today, research companies such as Gartner and IDC count them separately. This is easy because the vast majority of notebook PCs run Microsoft Windows on Intel processors, while the vast majority of tablets run Apple's IOS on ARM chips. But what will happen after Windows 8 is released? Microsoft's next generation operating system provides a full multi-touch user interface on both Intel/AMD/x86 and ARM processors, so simply counting by operating system will not be enough. Current sales of tablets running Windows 7 are too small to bother about, but sales of tablets running Windows 8 could take a significant slice of the market. It will be interesting to see whether the research firms count them as tablets, as notebooks, or both. Windows 8 tablets are expected to have a strong appeal to businesses because they will be much easier to integrate into current IT systems than Apple iPads. A Windows 8 tablet will have out-of-the-box compatibility with Active Directory and the rest of the Windows-based infrastructure already used in most businesses. It will also be programmable using familiar tools such as Visual Studio. Further, Intel-based Windows 8 tablets will still be able to run the back catalogue of applications from Windows 7 and Windows XP, because Windows 8 is basically Windows 7 underneath. I expect companies that are currently rolling out Windows 7 will continue to roll out Windows 7 for the next two or three years, because companies are extremely risk-averse when it comes to the IT infrastructure used to run the business. This will also give many staff the opportunity to train themselves at home in the use of the Windows 8 Metro interface before they have to deal with it in the workplace. However, there's really no reason why companies shouldn't switch to rolling out Windows 8 instead, possibly with the Metro interface -- which, initially, is a straight replacement for the Start menu -- turned off. What about Windows 8 tablets based on ARM processors, which are not able to run traditional Windows 7 apps unless they are ported or recompiled for the different chip architecture? These ARM-based Windows 8 tablets will be directly comparable with iPads, because functionally, the Metro interface is equivalent to IOS5, with a few advantages. For example, Metro makes more information available at a glance, the system of hubs provides a better way to organise apps, it's easier to hit a tile than an icon, and Microsoft already has cloud services and a synchronisation system that works very well. Metro's obvious disadvantage is there are almost no Metro apps at the moment. However, it's relatively easy to write them, and the high volume of Windows 8 sales could kickstart an apps market. Bear in mind that while Apple might ship 50m iPads this year -- and it's an amazing number -- Windows PC shipments run at about a million a day. Even if only half of PCs ship with Windows 8, and only a small proportion of Windows 7 users upgrade, there could be 200m Metro users after its first year on sale. Also, there are already more than 30,000 Metro apps for Windows Phone, and they are relatively easy to convert. So, even if the number of Windows 8
tablet
users is relatively small compared to the number of iPad users, Metro could still represent an attractive market for app developers. Indeed, I assume this is Microsoft's strategy. The way it looks at the moment, then, there could be at least three overlapping segments in the Windows 8 market:
First, standard PCs and laptops
, which are basically Windows 7 machines with a different Start menu.
Second, touch-based Wintel machines
that make good use of the multi-touch Metro interface. These will include all-in-one PCs, convertibles, transformers, and tablets. These will appeal to businesses that want to have both a traditional PC and tablet functionality without giving up compatibility, and without the inconvenience and cost of buying two devices.
Third, touch-based Winarm tablets
that make good use of the multi-touch Metro interface but will mainly be dependent on Metro apps. These might be attractive but the number, quality and price of Metro apps are all unknown. It's obvious that standard Windows PCs will be counted as PCs, and that Winarm tablets should probably be counted as media-consumption tablets (even though they may also have access to some powerful desktop apps). But touch-based Wintel machines could be counted either as tablets or as PCs or as both. I enjoyed using an
Asus Transformer when I had one on loan
, because it provides all the functionality of a touch-screen Android tablet, but almost instantly converts to a notebook with a usable keyboard and market-beating battery life. A Wintel version of the Transformer looks like it could be a killer product.
@jackschofield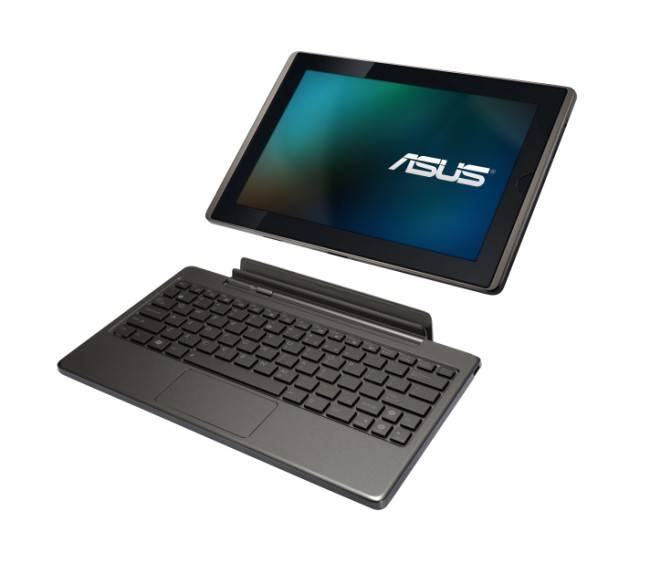 The Asus Transformer works as both an Android tablet and a clamshell-style netbook, and has batteries in both the tablet and keyboard elements.