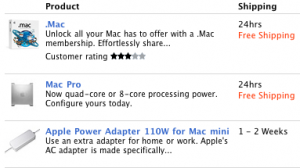 The Apple
UK Store
accidentally posted a graphic that suggests that new 8-Core Mac Pros are coming soon according to
MacRumors
.
When searching for "Mac" in the Apple UK Store, the listing for the Mac Pro said: "Now quad-core or 8-core processing power. Configure yours today." The graphic has since been removed.
Rumors have been swirling since October 2006 that Apple would introduce an 8-core Mac Pro using dual Intel Quad-Core Xeon 53xx family processors (code-named Clovertown). Current Mac Pros use Intel Woodcrest cores that are in the Xeon 51xx family.
According to reports "Clovertown" will ship in two configurations (X5355 and E5345) with the same 1333MHz bus found in the Mac Pro running at 2.66 and 2.33GHz respectively. Two slower configurations (E5320 and E5310) aren't expected to be used by Apple.
The Intel Xeon 53xx series will reportedly use Intel's
LGA771 socket
, the same socket that ships in today's Xeon 51xx series (a.k.a. Woodcrest) Mac Pros. Therefore it's conceivable that current Mac Pro users
could
upgrade to 8-core machines - depending on chip availability of course.