Both Gartner and IDC have reported an increase in worldwide PC shipments in the first quarter of 2012. While the results were better than predicted, Gartner said the consumer market was weak, and the US market saw another decline. Vendors experienced mixed fortunes, but both Lenovo (up 28.1 percent, according to Gartner) and Asus (up 23.1 percent) showed impressive growth.
On Gartner's preliminary numbers, worldwide PC shipments grew by 1.9 percent to 87.3 million units, while IDC put growth at 2.3 percent to 87.1 million units.
HP was the market leader, with shipments growing by 3.5 percent to 15.3 million units, giving it a 17.2 percent share of the market, according to Gartner. Lenovo jumped to second place, followed by Dell, Acer and Asus.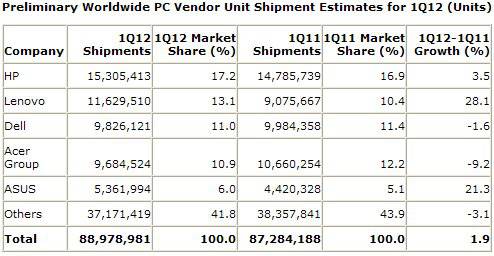 However, the US market continued to struggle. Gartner's numbers show a decline of 3.5 percent to 15.5 million units, while IDC's show an increase of 1 percent to 16.6 million units. However, Gartner said its analysts had expected the US market to decline by 6.1 percent in the quarter.
The two research companies had different views of Acer Group's US performance. IDC reckoned its shipments declined by 3.8 percent to 1.3 million units while Gartner had it slumping by 25.9 percent to 1.4 million units. Both companies showed Toshiba having a bad time.
HP remained the US market leader, increasing its shipments by 6.6 percent (Gartner) to 4.5 million units in the quarter, for a market share of 29.0 percent. HP was followed by Dell, Apple, Acer and Toshiba.
Apple increased its US shipments by 3.8 percent to reach a market share of 10.6 percent. At one time, Dell used to sell five times as many PCs as Apple sold Macs. Now, in the US market, it only sells twice as many.
Gartner said "early indications suggest that Dell's relatively low shipments were mainly due to low-end consumer systems, to which Dell gave low priority." Since Dell has clearly been shifting its attention towards the business PC and enterprise services market over the past five years, it's probably not bothered.
In the European market (EMEA) , Gartner said shipments increased by 6.7 percent to 28.2 million units, which under the circumstances represents impressive growth. Lenovo (shipments up by 48.1 percent), Asus (up 20.4 percent) and HP (up by 14.6 percent) powered ahead. Even Dell increased its PC shipments by 7.1 percent, though Acer Group's fell by 8.8 percent.
HP remained the market leader, shipping 5.8 million units for an EMEA market share of 20.5 percent. HP was followed by Acer, Dell, Asus and Lenovo.
As expected, the global PC market was constrained by a shortage of hard disk drives following last year's floods in Thailand, by the weak economy, and by the competition from newer devices such as media tablets. To these, Gartner's principal analyst Mikako Kitagawa added the expected arrival of new chips and operating systems. She said:
"The first quarter of 2012 was a transitional period as the PC industry is awaiting two big releases: Intel's Ivy Bridge and Microsoft's Windows 8. Both are expected to be launched this year. Although these new releases are not expected to stimulate demand as much as the industry hopes, they will affect PC supply so that there will be artificial supply control before and after the product releases. There will be few products rolled out into the market until these major releases have taken place."
With Windows XP now on death row and Windows 8 threatening a significant change in its user interface -- which will probably entail extra costs in user training -- we should expect business PC sales to improve this year. IDC's Loren Loverde said:
"History has shown that periods of slower growth are followed by recovery as improving technologies make replacements as well as new purchases increasingly compelling. As a result, we expect PC shipments to pick up significantly by the fourth quarter and beyond as HDD supply and pricing are normalized, Windows 8 is launched, and replacements pick up."
We shall see.