MSNBC is jumping on the $99 iPhone bandwagon based on a report based on RBC Capital Markets analyst Mike Abramsky, who believes that the entry-level iPhone will arrive in June or July, presumably at WWDC 2009. Dates for the conference have not yet been announced.
The interesting thing about the arrival of the $99 iPhone is that it will create a division between the high-end and low-end models for the first time in the product line. According to Abramsky, the $99 iPhone may drop 3G and GPS in order to keep the price low. The $99 iPhone will retain Wi-Fi, Bluetooth and the 3.5-inch, 480 x 320 screen of the current models, according to the report.
In addition to the $99 stripped-down version, Apple will release a third generation "premium" iPhone that will include an higher resolution, 720 x 480 screen, a video camera and either 16 or 32GB of flash memory.
The report didn't include any mention of an upgraded dual or quad-core processor, a larger form-factor, or firmware 3.0 which have been previously rumored.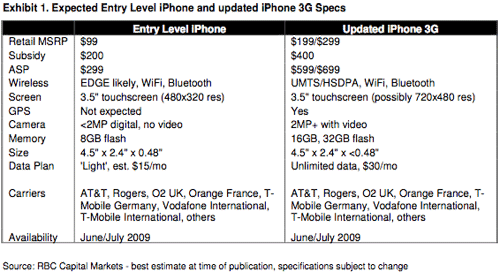 Would you buy a $99 iPhone or is the allure of the premium version too hard to resist?