The British PC market enjoyed a small increase in shipments in this year's first quarter, according to Gartner's preliminary numbers. However, Western Europe as a whole -- which includes the distressed markets in Italy, Greece, Portugal and Spain -- saw a 3 percent decline to 15.5 million units. Sales of business PCs grew slightly but "consumers continued to focus their spending on alternative computing devices like smartphones and media tablet," said Gartner's principal analyst Meike Escherich.
UK market shipments grew by 2.4 percent to 3.0 million units, which might be unimpressive but reverses a 16 percent decline seen in 2011.
The US company's UK-based research director Ranjit Atwal said the desktop PC market did best with a rise of 7.2 percent, as a result of strong sales of all-in-ones. "Shipments of professional PCs grew 3.2 percent in the first quarter of 2012, but it remains to be seen if this is a sign of real demand or just inventory refreshment," he said.
HP was, as usual, the UK market leader, shipping 644,000 PCs for a market share of 21.4 percent. Dell moved back into second place, despite a fall in sales, followed by Acer, Toshiba, and Lenovo.
Lenovo -- which combines the former IBM PC division with China's Great Wall and now Germany's Medion -- enjoyed spectacular UK growth, increasing shipments by 59.5 percent to 236,000 units. This reflects increased targeting of the consumer market for low-price PCs, where Acer saw UK shipments fall by 35 percent.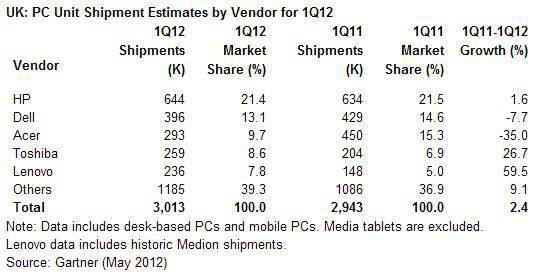 In Germany, PC shipments grew by 7.1 percent to 3.3 million units compared with a weak first quarter in 2011. Gartner said the professional PC market grew 9 percent "driven by demand for replacement PCs as a result of increasing Windows 7 deployments, particularly by large businesses and public sector organizations".
HP lost its market leadership in Germany, falling to third place behind Acer and Lenovo. Asus and Dell completed the top five.
In France, PC shipments fell by 3.9 percent to 2.7 million units in the first quarter, and Gartner's French principal analyst Isabelle Durand said: "The weak demand was in part due to consumers' increased interest in other mobile devices." However, professional PC shipments grew by 0.8 percent thanks to "demand for replacement PCs as a result of increasing Windows 7 deployments, particularly by large businesses and public sector organizations," said Gartner.
HP retained its market leadership in France, followed by Acer, Asus, Dell, and Toshiba.
HP also retained its lead in Western Europe (see table below), shipping 3.5 million PCs for a market share of 22.9 percent: two points up on last year's first quarter. HP was followed by Acer (14.5 percent), Asus (9.5 percent), Dell (9.2 percent) and Lenovo (8.6 percent).
Summing up, Escherich said: "This quarter had a 'wait and see' feel to it, as many retailers were awaiting Intel's Ivy Bridge-based Ultrabooks and the arrival of Windows 8-based PCs. Intel is already promoting the Ultrabooks, but there are questions if consumers see the difference, and more importantly, pay the higher price point."