IDC has published a white paper that explains "Why Sticking with Windows XP is a Bad Idea". It claims that upgrading from Windows XP to Windows 7 pays for itself in a year, in increased productivity and reduced support costs, and provides a return on investment (ROI) of 137 percent over three years.
Based on in-depth interviews with nine large organisations, IDC says: "Annual cost per PC per year for Windows XP is $870, while a comparable Windows 7 installation costs $168 per PC per year." Since these organisations spent an average of $712 (discounted) per new PC, the upgrade "saved $1,685 (discounted) per PC in reduced IT labor support and lost productivity over three years," says IDC.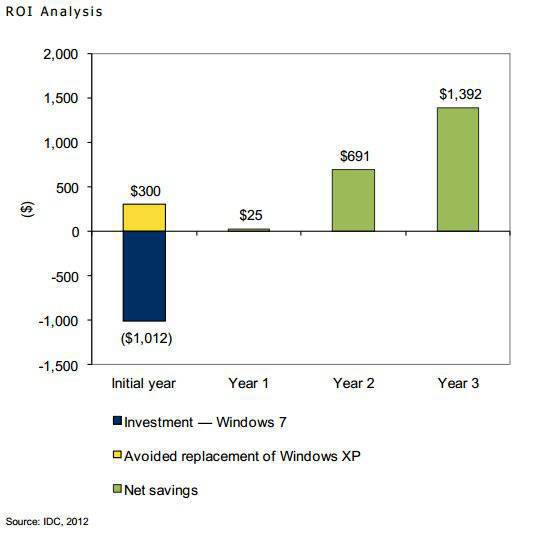 The problem, as IDC notes, is that buying a new PC involves highly-visible capex whereas increased productivity and reduced running costs (opex) are harder to identify and measure.
Of the nine organisations surveyed, four were already 100 percent Windows 7 users, while two were still 93 percent XP users. Overall, the balance was 65 percent Windows 7 to 29 percent Windows XP. However, Windows XP probably still has about 42 percent of the business market, according to IDC.
The IDC white paper was sponsored by Microsoft, and this sponsorship suggests the company may be stepping up the pressure on XP users, much as it has waged war on Internet Explorer 6.
Microsoft plans to end support for XP SP3 on 8 April 2014, which will mark the end of both security updates and paid-for per-incident support. Even before that, the cloud-based Office 365 will stop supporting Windows XP on 1 January 2014. Since it typically takes companies 18 months or more to upgrade their desktops, the ones still on XP are rapidly approaching the end of the line.
XP is less stable and significantly less secure than 64-bit Windows 7, and subject to more malware attacks. This leads to the downtime (including reboot time) and support costs that make it more expensive to run XP than Windows 7. When XP support ends in 2014, these costs are expected to increase.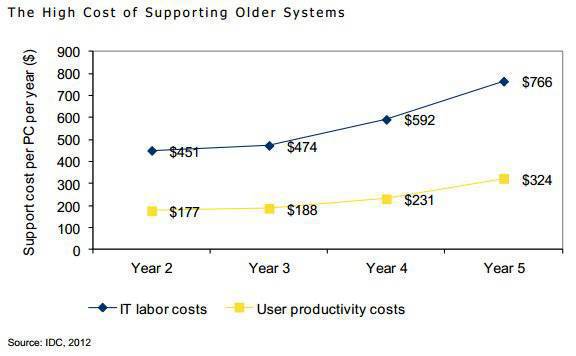 By 2014, XP will be four versions behind, since Microsoft will launch Windows 8 this year. Each new version introduces changes that make it more difficult and even more expensive for XP users to catch up, though the costs will probably still be lower than switching to a non-Windows alternatively. That, of course, is a calculated risk.
Microsoft started the process of cutting XP users adrift last year, when it stopped supporting XP in much-improved versions of its desktop applications, including Live Mail and Messenger. It also dropped XP support from its latest browser, IE9. The result has been that XP/IE8 works noticeably worse on the web than Windows 7/IE9, and often doesn't work at all. For example, XP/IE8 doesn't work with sites that require HTML5's Canvas, and doesn't support HMTL5 video.
IDC says: "With the current trajectory, the Windows XP installed base will contract to 11 percent of paid commercial Windows client operating systems in use by the end of 2014."
A small number of "XP forever" holdouts may be under the impression that XP's user base is too large for Microsoft to abandon. They are probably in for a very rude awakening.
* IDC's 12-page white paper, Mitigating Risk: Why Sticking with Windows XP is a Bad Idea, can be downloaded free from Microsoft (PDF).