As we approach the annual Consumer Electronics Show (CES) in Las Vegas, America's Consumer Electronics Association (CEA) has released the results of a poll of its members on what they expect consumers to buy next year. Tablet computers will apparently be the hot product -- and 46% is a higher rating than I'd have expected -- followed by "streaming content boxes" (20%) and mobile phones (11%). However, dealers are apparently not expecting to sell too many 3D TV sets (9%).
Still, Randy Fry, president of Fry's Electronics and CEA's executive board chairman, says: "3D television will gain significant momentum next year as Blu-ray and television content becomes more readily available. We will see new active glasses technology in second-generation 3DTVs that will help improve consumer adoption."
However, he adds that: "In units, smartphones and tablets will be the winners. In spite of the normal decline of current technology ASPs [average selling prices], continued innovation of notebooks and flat-panel TVs will continue to drive the dollars. Video gaming will remain very strong for 2011 with the first 3D hand-held set to be introduced by Nintendo. Microsoft's Kinect has brought to market an exciting 'game-changing' technology, although it remains to be seen if we will be able to dance safely with 3D glasses on."
The CEA has predicted overall shipment revenues of $174.9 billion in the United States this year, and forecasts a 4% increase to "an all-time high of more than $182 billion by 2011".
Thanks to the continued "consumerization of IT", many of the smartphones and tablets could double-up as enterprise terminals, though the serious business prospects of 3D TV sets and media streaming boxes appear limited.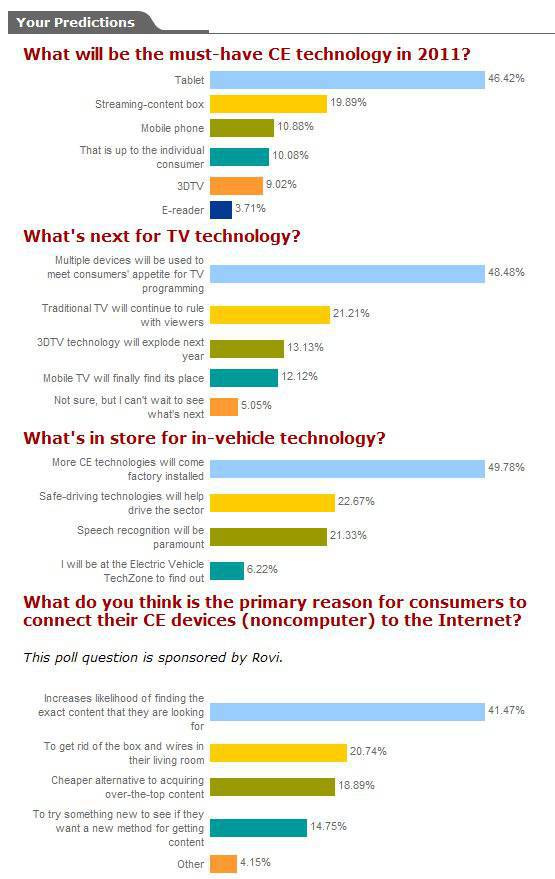 CEA survey results