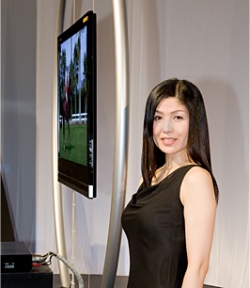 Like big TVs? (Who doesn't?)
How about without tangled up cables hanging out the back?
If you've ever seen the Sharp AQUOS X-series -- just 1.35 inches deep and, according to Sharp, the world's thinnest LCD televisions in production -- then you know what dreams are made of (and what it feels like to have a "saliva malfunction"). Sharp managed the svelte shape of their HDTV series by throwing the tuner and connectivity in a separate box, which then needed only a single cable to connect.
Now, the 37-, 42- and 46-inch HD screens are free to run.
AMIMON, the semiconductor company, has developed a wireless technology that allows TVs to receive uncompressed HD video streams wirelessly. The company calls it WHDI technology, and it uses a video-modem approach to achieve a range of more than 100 feet (yes, through walls) and with latency of less than one millisecond. Of course, all in the name of eliminating that pesky audio/video cable between the TV panel and the separate tuner unit.
There will still be a "set-top box" of course, but now you can hide it somewhere out of view. The price for the technology is steep: $800. But unless you have yen in your wallet, your U.S. greenbacks are safe until the X-Series arrives in the States.
Naturally, the new technology starts at the top and works its way down -- so here's to a rapid trickle effect. (Image courtesy SlipperyBrick)