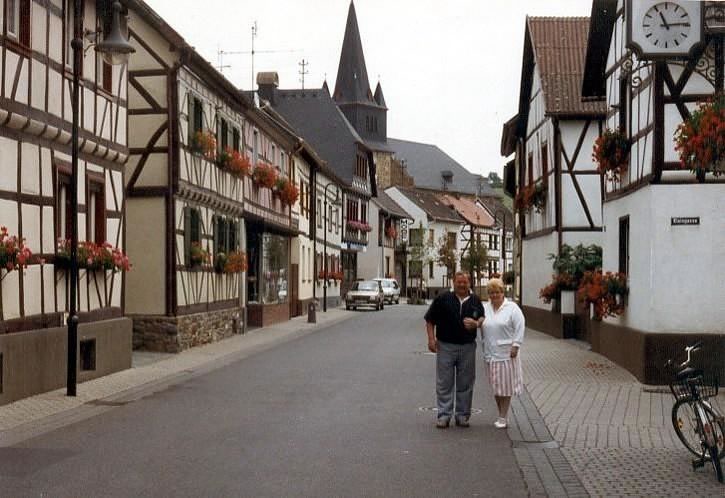 The glacial speed at which core W3C standards are formalized and then eventually incorporated into new internet applications controls the pace of change for the enterprise technology on which businesses run. When we compare the fast moving world of 'consumer' applications for the individual, whether online or mobile applications, it can often seem to the casual observer that enterprise technologies are still stuck in the last century ...and in some ways they are.
The foundations of internet connected business applications require that a company literally runs on it, which is why SAP and Oracle have historically been the big dogs in Enterprise Resource Planning (ERP) and the myriad other mission critical business alphabet soup world of specialized but interconnected applications. Earlier this year I waited in a rental car, getting late for a meeting, at a railroad crossing for what seemed like an eternity as a freight train that must have been over a mile long rolled by - the analogy of SAP's many offerings and flavors jumped into my head as the very diversely shaped trucks and machinery trundled by.
The challenge for enterprise technology incumbents is their legacy decisions and support responsibilities - and the unpopularity of maintenance contract price hikes to keep support available has been a major grumble this year for clients. Next generation companies have the advantage of not having to support previous generations of technology and the associated philosophies behind them.
We are currently in a period where renting rather than buying technology is very fashionable - apart from the lighter financial burden and much faster period to it being in use, operating expense rather than capital expense budgeting and decisions about on premise engineering staff are important decision points in a very tight economy. Cloud computing is high fashion, not least because we are so used as individuals now to use often free 'on demand' application on our devices.
SAP's decision, announced at the weekend, to purchase cloud-based human capital management (HCM) firm SuccessFactors (who have just bought Jobs2web.com today for 110 million USD) is intriguing, not least because Successfactors will remain a separate entity. The challenges of 'legacy' SAP culture and the new world we live in is apparently being kept separate. I've followed SuccessFactors fairly closely for the last three years, and now believe SAP have made a shrewd move, assuming they allow the sophistication of SuccessFactors infrastructure to help inform and contribute their future generation.
VP of Cloud Technology Tom Fisher and his team have built a sophisticated, modern global infrastructure at SuccessFactors, and coming from the previous role of Chief Technology Officer and Vice President of Architecture and Technology Strategy at eBay, lives and breathes cloud design and efficiencies. This is important because while many SaaS enthusiasts fixate on the 2.0 attributes of intuitive user experience and ease of use ('the last mile' as I've been calling it) it's the underlying international architecture that makes these sites sing. Latency is the enemy as anyone who has tried to run a global extranet inside a corporation (a 'private cloud') will tell you. Been there and fought those battles against sluggishness with disinterested IT staff...
The sheer scale of the SAP industrial strength freight train, with the big focus on in memory computing to speed up transactions, cannot be underestimated. As you read this millions of people in large companies are relying on SAP technologies of varying age provenances to run the firm. The native expertise of SuccessFactors cloud teams (assuming they stick around of course) should provide some intriguing new opportunities for SAP.
As has been discussed by those interested in and/or working with enterprise class technology this is sure to be first of many role ups in what is ultimately all about globally connected enterprises: the scale needed makes it almost inevitable that bigger fish will incorporate smaller ones to enable their plans for world domination.
As I've discussed here previously, the vast majority of people are still working to a paradigm largely set the century before last: write a document, (Microsoft Office) put it in an envelope (email) and then file it (digital filing cabinets like Sharepoint and Content Management Systems). Turbocharge the speed at which we do this and you have your current email overload and massive search and find problems...
Hewlett Packard have just announced their computers will now come with Box.net pre-installed, effectively a B: drive in the cloud to save documents to for many people based on the above sensibilities. (U.S. customers who purchase an HP Compaq 6005 or 6200 Pro Series PC through the HP Smart Buy program can choose to open a free Box account with 10 gigabytes (GB) of storage, for example).
Box will attempt to entice these new users to a more collaborative, modern way of working with their associated applications and partners, but in some ways this is the other side of the cloud: hard drive real estate somewhere other than your desk to keep your hoarded stuff. (Incidentally I just bought a desktop terrabyte drive to archive digital video on for sixty six bucks; Moores Law is alive and well in the storage world).
Back to SAP and SuccessFactors: software executive John Wookey joined SAP from Oracle in November 2008 to bring SAP's core software into a software as a service model after working on Oracle's then nascent Fusion applications....Wookey left in April of this year and has just joined Salesforce in a currently looser role, who are in comparison to SAP and Oracle arguably more of a blank canvas to innovate on as W3C html5 standards come of age.
Wookey's design thinking management style to make software intuitive and easy to use presumably wasn't well enough received at SAP and/or he got frustrated. The Salesforce/Workday/Google stack has tremendous momentum right now and many people have commented on the SuccessFactors purchase being a tactical move to counter this. I'm not so sure. I think this is fundamentally about bringing SAP into the cloud era from a different angle, by having the US SAP unit buy an entire global nasdaq listed company that has lived and breathed cloud dna and has pragmatic experience of working in these ways.
The larger question is whether the grand poobahs in Waldorf Germany (That's the old town center in the photo above), the epicenter of SAP's business culture, will leverage SuccessFactor's strong points to inform and enhance their many offerings, or whether they will keep SFSC separate and at arms length.
~~
Image from Waldorf's US twin city Astoria, Oregon