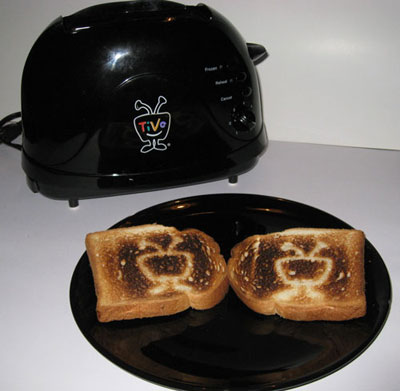 The headline is admittedly salacious, but I had an epiphany last night that I've just got to share with you, faithful reader. It's called TiVo Transfers and it's awesome.
First a little background is in order. A few years ago I was a fiercely loyal TiVo customer using a Series 2 DVR attached to a satellite dish from DirecTV. I was eventually assimilated into the world of Comcast cable when I needed to get cable Internet access and Comcast made me a deal that I couldn't refuse. No problem, I thought. Comcast offers a DVR and it's a lot less money than DirecTiVo – at least with the 12-month promotional rates they were offering.
As it turns out the Comcast DVR is a piece of crap, for lots of reasons. The biggest problem is Comcast's horrible channel guide. It's slow and it forces you to arrow through ads when you navigate up and down. To make matters worse, if you search for "24" it only finds the SD version of the show. If you want to record the HD version, you have to create a manual recording. Also, there's no wish lists with Comcast. Want to record all movies that Steve Buscemi is in? No can do.
Comcast charges $16 per month for their DVR, TiVo charges $13 per month but you have to purchase the DVR. Lifetime TiVo subscriptions cost $399 or $299 if you're an active customer. The Comcast DVR is pretty universally reviled, if you don't believe me, search for "Comcast DVR Review" and you'll see what I mean.
After withstanding enough punishment from the Comcast DVR, I bit the bullet and acquired a TiVo HD XL with a 1TB hard drive upgrade from Weakness (disclosure: Weaknees is a past sponsor of the PowerPage). What a breath of fresh air it is! The guide is speedy and fantastic and it allows me to find and record HD programs, this enough would be reason enough to buy one for most people. Then I discovered the wonderful world of TiVo Transfers.
Most cable company DVRs (including Comcast's) are akin a roach motel for TV and movies. Programs go in and they never come out. I don't know about you, but I record a lot of programming on my DVR but probably actually watch about 20 percent of it. Although many cable company DVR's have USB and Firewire ports on them, they're effectively neutered and incapable of exporting data.
Enter TiVo Transfers, a service available on the Mac courtesy of Roxio's excellent Toast 10 software ($80) which we reviewed on the PowerPage in February. TiVo Transfers allows you to transfer programs from your TiVo to your Mac over your home network.
You can then watch said programming on the Mac (great for taking your MacBook on a trip, for example), burn it to DVD (via Toast) or convert for playback on your iPhone, iPod, PSP, or other portable player. It's not exactly speedy though, SD programs transfer a little faster than real time, HD transfers take longer (depending on wether they're 720 or 1080 pixel resolution). The good news is that transfers can be automated so that every episode of 24 (for example) is auto-transfered to your Mac as soon as it hits the TiVo.
The bottom line is that TiVo and Toast are a great combination that frees your programming from the confines of your DVR. Your parents missed last night's Dancing With The Stars? Just burn them a DVD. Want to bring your season pass of 30 Rock with you to watch on the plane -- no problem. I really can't recommend TiVo Transfers enough it's a revolution for the DVR.
What DVR do you have? Are you happy with it?
Photo: Jake Ludington