"Normally, the marketing of a product follows on from the delivery of something which is marketable," quipped William Rogers, chief executive officer of UKRD, which operates 16 local commercial radio stations. This is the marketing problem that besets the UK's troubled Digital Audio Broadcasting (DAB) industry. Consumers don't want its product -- or at least, not in the hoped-for or predicted numbers -- in spite of government and industry trying to bully them into it by threatening to withdraw all the national stations from FM.
The situation now is that the DAB industry wants the government to pay for the build-out of the network to the point where it is more or less competitive with FM, though still not as good. Arqiva, which has a monopoly of the masts, doesn't want to pay. An already beleaguered BBC doesn't want to pay. The commercial radio operators wouldn't want to pay even if they had the money, which they don't. So you have to.
Travis Baxter from Bauer Media (Magic, Kiss etc) said "DAB is an uphill struggle" and he didn't see how the push to DAB could be achieved without massive public funding. Picking up the theme, Jimmy Buckland, from UTV Media (TalkSport etc), said "there is a mountain of DAB investment to scale," and "we need a comprehensive public funding commitment." Andrew Harrison, CEO of RadioCentre, said the government, the BBC and Arqiva were talking about funding the roll-out of DAB. "No deal, no coverage, no switchover," he said.
Harrison, Rogers and many others were at the Royal Overseas League's establishment in St James's, London, for today's lively and interesting Westminster eForum conference. I had thought I might be the only speaker highlighting DAB's continuing failures -- the system was developed around the same time as the World Wide Web, and launched in 1995 -- but Rogers took a far more acerbic view of "the completely inept and incompetent way this whole sorry DAB project has been planned and delivered."
Rogers said he wasn't opposed to radio having a digital future:
"What I am opposed to is the incompetent planning, inept strategic thinking and irresponsible promises made by those who should all know better, and the damaging consequences that earlier decisions have heaped upon too many within the sector. Oh, how commercial radio particularly seems to have enjoyed shooting its own foot off, toe by toe."
The problem is that the UK radio industry is supporting two incompatible systems in FM and DAB, and attempting to move a less-than-enthusiastic audience from one to the other. This more or less doubles their transmission costs without delivering many (if any) new listeners. And for consumers, DAB doesn't justify the cost, beyond offering some extra stations that -- with the exception of BBC 6Music and, perhaps, Planet Rock -- attract relatively few listeners. Either way, people are not queuing up to replace their analogue radios with DAB versions, which is frustrating the broadcasters' desire to go back to a single broadcasting system.
As I pointed out in my talk, most families have multiple radios including bedroom radio alarm-clocks, car radios, and the portable radios in their smartphones and MP3 players. Indeed, the number of FM radios is still growing much faster than the number of DAB radios, and the adoption problem can't be solved just by selling the portable kitchen radios that make up the bulk of the DAB market. Since DAB is patently not in 30 million cars or in even more tens of millions of smartphones, it doesn't make any sense to talk of a switchover date. There is no chance of it happening in 2015, and some people think it will never happen.
Someone from outside the radio industry, Audioboo-founder Mark Rock, delivered a devastating critique in two sentences. "It's the only industry that's moving to a more expensive system with reduced quality," he said. "In every other industry, it's reduced costs and superior quality."
No wonder he's nonplussed by DAB, and he's not the only one. Until the digital radio industry comes up with a convincing story not just for the adoption of DAB but of DAB+ and DRM+ (the latest version of Digital Radio Mondiale), there's no real reason to support it. As it is, the DAB lobby is still trying to sell us a system that uses (roughly) 1990 technology that might become the UK's primary radio platform by (roughly) 2020.
My view is that if your whole approach is based on implementing a 20-year-old technology, you've probably not got the digital message about making rapid changes to deliver superior functionality, and you might as well not bother. Especially if you expect taxpayers to finance it.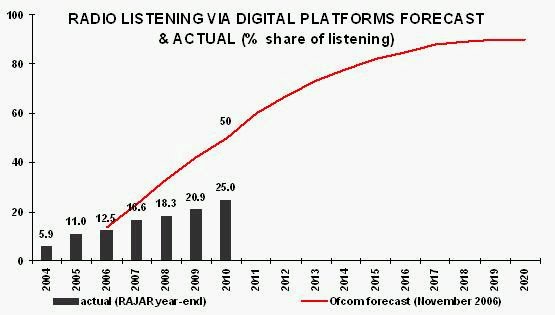 RAJAR figures for digital listening versus Ofcom's predictions, from Grant Goddard's excellent Radio Blog
Digital listening includes internet and Freeview listening, not just DAB. However, RAJAR's figures exclude "listen again" services, podcasts, and online services such as Last.fm and Spotify.