iPad apps to get right now
Some of my favorite iPad selections from the App Store.
The App Store has been a treasure trove of new iPad-centric releases since Friday and the parade of apps makes the iPad better every day. Following are several iPad apps that I discovered in my first weekend of using the iPad and already can't live without. Here are several of my favorite iPad apps, so far.
Netflix (free app, sub req'd, App Store) – If you have a Netflix account, this app allows you to stream movies directly to an iPad. It's so good, that many people will get a Netflix account (which start at $5/month) just because of the iPad version. The Netflix app was also one of the best kept secrets of the iPad launch, which is cool.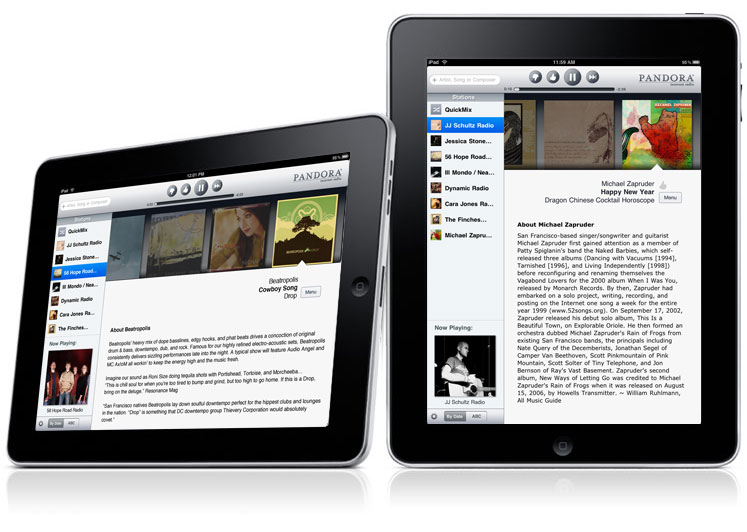 Pandora (free, $36/yr pro, App Store) - What can one say about Pandora that hasn't already been said? It's the best music streaming app out there and the iPad version does quite a nice job. The only thing that would make this streaming sensation better was if it were multi-threaded, but that's on Apple's (and we may have a solution as soon as Thursday).
TweetDeck for iPad (free) - This Twitter client was made for the iPad. It's clean, column-based navigation and feature set makes TweetDeck my Twitter app of choice these days. It's got some quirks though, like having to switch to portrait view to click on a link. I'm sure that it will get better. Honorable mention goes to Twittelator Pad ($4.99).
OmniGraffle for iPad ($49.99, App Store) – OmniGraffle is an amazing diagraming/charting app whose freehand drawing capabilities are a perfect complement for the iPad's multitouch surface. With it you can draw shapes, smart-align them and easily instant arrows to connect objects. There's also numerous templates, shape libraries and style choices to choose from.
Wall Street Journal (free app, sub req'd) – Although it's a little spendy (subscriptions start at $3.99 per week and $17.29 per month) WSJ has a compelling and readable interface. It actually feels like you're reading the real thing (except with embedded video) which is both frightening and exciting at the same time. Existing WSJ online subscribers get unfettered access to the iPad app for a limited time.
Air Sharing HD ($9.99, App Store) - This essential app makes up for the lack of an accessible file system on the iPad. Air Sharing turns the iPad into a wireless flash drive where you can transfer and store files. You can connect to a number of different types of file servers and transfer files back and forth between them and Air Sharing. Once files are on the iPad you can manipulate them in a number of ways and even print them via Mac OS X Printer Sharing - something the iPad can't do out of the box.
GoodReader for iPad ($0.99, App Store) – If you need to access PDFs on a regular basis then I recommend GoodReader. In addition to viewing massive (up to 1GB) PDFs with ease GoodReader features inline searching and an amazing PDF reflow algorithm that makes your PDFs reformat fit the iPad perfectly. You can either transfer files to GoodReader via Wi-Fi or open PDFs directly via server-style access to MobileMe, Google Docs, Dropbox and other servers.
More to follow...
What are are your favorite iPad apps?
Editorial standards