PC shipments in this year's second quarter grew by 2.3 percent to 85.2 million units, according to Gartner, which was less than its earlier projection of 6.7 percent growth. However, the growth came from emerging markets such as Asia/Pacific. PC shipments declined by 5.6 percent to 16.9m units in the US, and by 4.8 percent to 23.1m units in EMEA (Europe/Middle East/Africa).Both results were strongly affected by dramatic falls in Acer's PC shipments. For example, EMEA saw a total decline of 1.2m units, while Acer's EMEA shipments declined by 1.7m units.
Acer's problem was excess inventory in the sales channels, which is now being corrected.
Gartner principal analyst Mikako Kitagawa said in a statement: "After strong growth in shipments of consumer PCs for four years, driven by strong demand for mini-notebooks [ie netbooks] and low-priced consumer notebooks, the market is shifting to modest, but steady growth."
The global PC market was lead by Hewlett-Packard, which shipped 14.9m PCs for a market share of 17.5 percent. HP was followed by Dell (10.6m, 12.5 percent), Lenovo (10.2m 12.0 percent), Acer (9.3m, 10.9 percent), Asus (4.5m, 5.2 percent) and Toshiba (4.4m, 5.2 percent). China's Lenovo was the most successful in increasing its PC shipments by 22.5 percent. Lenovo swapped places with Acer, which saw shipments fall by 20.4 percent. Toshiba also lost ground, with PC shipments falling by 1.9 percent to 4.4m units.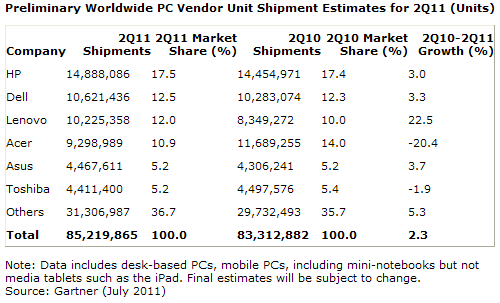 HP (which includes the Compaq brand) was the market leader in the US, where it shipped 4.6m PCs for a market share of 26.9 percent, and in Europe, where it shipped 4.9m PCs for a market share of 21.4 percent.
In the US market, HP was followed by Dell, Apple, Toshiba and Acer. Usually, Apple and Toshiba are the other way around. However, Apple's shipments grew by 8.5 percent to 1.8m units giving it a market share of 10.7 percent. Toshiba's shipments grew by 3.3 percent to 1.6m units, giving it a market share of 9.6 percent,
In EMEA, HP was followed by Acer, Dell, Asus and Lenovo. Gartner noted that Acer's shipments declined by 34.9 percent "as some 3 million mobile PCs were cleared out of distribution". Ranjit Atwal, research director at Gartner, said: "If we remove Acer, the EMEA PC market would have shown a 3 percent growth year-on-year. While this may be an impractical view of the market, it is important to separate supply issues of one vendor against the general trends in the market."
Asus's shipments to EMEA fell by 2.4 percent to 2.0m units due to a decline in the netbook market, though the company now has a successful Android tablet, the Asus Transformer, shipping 400,000 units per month.
In a telephone interview, Atwal said: "Tablets are picking off some of the netbook market -- people just don't want a third PC in the house -- and netbook sales are going to be down, but they still have double-digit market share in mobiles."
Atwal said consumer confidence was low and consumers were "hanging on to their PCs for longer. That's the industry's biggest challenge."
Atwal declined to give Apple's position outside the EMEA Top 5, but said: "they're actually growing in the part of the market where everyone else is struggling" (the US and EMEA). However, "they're not playing in all the markets," Atwal added. "They don't have much presence in emerging markets."
Atwal confirmed Gartner's view of EMEA, that: "Demand in the professional PC market has picked up as organisations released budgets to migrate aging PCs to Windows 7. Dell in particular seemed to benefit from this upturn in the professional market." Dell's shipments grew by 9.0 percent to 2.4m units.
"It's not all pessimism," said Atwal. "The PC industry has probably hit the bottom and should be able to look to better growth moving forward."